Monthly review, Vol. XXIII
Comments: +
January 4 2012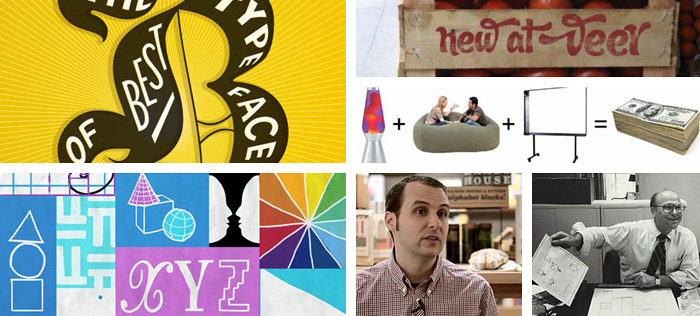 Get your credit card ready, the annual best-of font lists are here from FontShop and MyFonts.

Known for their tightly-curated font library, Veer restructures to increase emphasis on user-generated "micro-stock" images.

Ben Chestnut of MailChimp speaks at Creative Mornings on creative culture and loving what you do.

New York-based designer and animator Erica Gorochow wraps up the fundamentals of design in a 3 minute video.

Gestalten interviews the talented Ken Barber of House Industries fame.

The celebrated New York Times art director passes away.

Mashable compiles an infographic on the history of Western typefaces. Some of the modern landmarks are off, but worth taking a look nonetheless.

55 artists and designers illustrate 55 theses in a new book.

Steve Shanabruch brands Chicago neighborhoods out of love.

Mikey Burton puts a new spin on the convention of the business card.

LetterMpress recreates art and craft of letterpress on your iPad or Mac.

HP nixes rumors of a new logo that surfaced in December.

The hottest toy of the year for Barbie and Pantone 219C-loving desginers.

Robert Schoenberger discusses the recent trend of recognizable brands toying with their image.
---
Also see: