Monthly review, Vol. XVIII
Comments: +
August 1 2011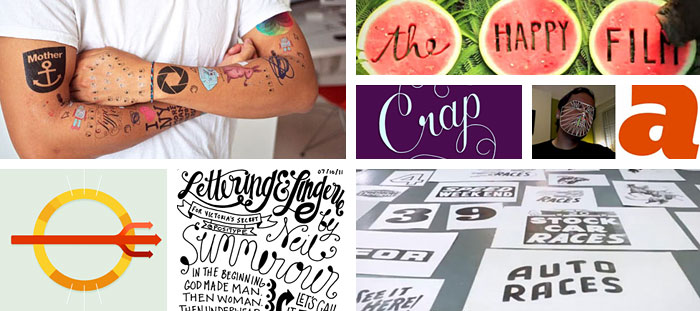 Designer and blogger swissmiss launches Tattly, temporary tattoos for designers with commitment issues.

Stefan Sagmeister explores the state of happiness in an upcoming feature-length documentary, The Happy Film, co-directed by Hillman Curtis.

Theo Olesen illustrates a beautiful swear word everyday (like this crap).

H&FJ experiments with facial recognition as a way to design type.

Josh Smith explores the responsibility designers have with infographics.

UPPERCASE wraps up the New Orleans type conference in five parts.

The mega-retailer join forces with the Wisconsin wood type museum to bring a different kind of style to the back-to-school crowd.

Frank Chimero speaks on design, underpinning his forthcoming book.

Leica gives us a behind-the-scenes look at the making of a camera lens.

Art of the Title compiles 'Outstanding Main Title Design' Emmy nominees.

The comprehensive typographical reference FontBook is now on iPad.

Steven Heller looks into the forgotten work of Ladislav Sutnar, a pioneer of information design and precursor of web design.

Japanese band Androp uses 250 Canon DSLR cameras to create a innovative music video. Don't miss the behind-the-scenes making of.

With one year to go, London unveils its Olympic medal design.

A new site for designers to create, share, and explore infographics.

Andrew E. Clark asks "how close is too close?" after Idaho's Burger Express is hit by legal threat from California's In-N-Out.

A clock that represents time in hexadecimal colors, by Jack Hughes.

The Color Of uses image data from Flickr to find the color of anything.

Khoi Vinh explains why he created a startup instead of a consultancy.

Co. Design on Chris Burden's Metropolis II, a city of 1,100 toy cars.
---
Also see: