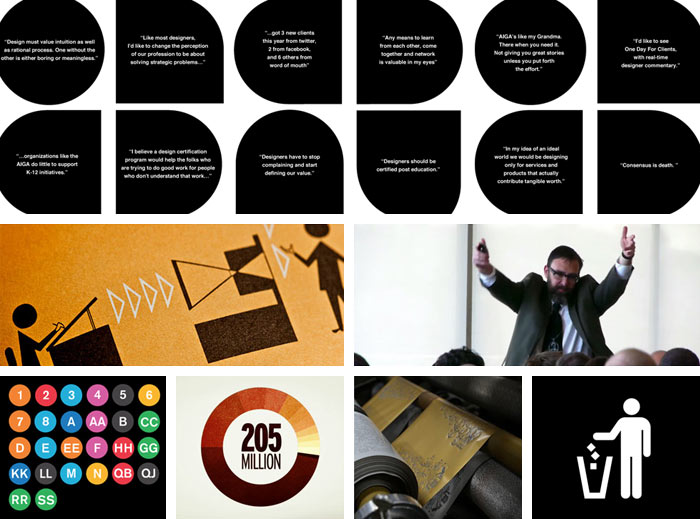 On April 13, 2011, AIGA brought designers together for #1D4D, an online dialogue on the meaning and future of design. Within 24 hours, more than 30,000 tweets were posted by nearly 3,900 people. AIGA says it will use this information to evolve and "better serve the needs of the design community."

We first wrote about the resurrection of PLINC's iconic lettering library nearly two years ago. We are happy to announce it has finally launched!

Mike Monteiro of Mule Design delivers an epic talk at San Francisco's Creative Mornings. A must-see for any designer who works with clients.

Paul Shaw's limited-edition book is republished, Michael Bierut reviews.

Chris Harmon marks the one year anniversary of the Gulf oil spill.

Peter Hop­kins from Crane & Co. talks about the process of foil stamping.

Mr. Vinh urges designers to stop mailing self-promotional material.

With the growing popularity of infographics, Ivan Cash explores the trends, visual devices, and informational elements found in modern data visualization.

Designer-letterer extraordinaire Marian Bantjes creates a fictional map of knowledge for UK illustration magazine Varoom.

Behind the scenes with the design team at Bloomberg Businessweek.

Pentagram's Luke Hayman redesigns the advertising industry magazine.

Walt Disney Studios closes ImageMovers Digital, production company behind creepy films like The Polar Express and A Christmas Carol.

Designer Fabian Gonzalez creates a typeface of superheros.

idsgn explores the use of artificial color in food.

Fuel takes a look at Braun's influential design over the past 90 years.

The prominent logo designer (Kodak, CVS, Goodwill) passes away at 86.

A new quarterly print magazine from I Love Typography.

Notebooks made for web designers and advertising art directors.

The multi-talented Kelli Anderson designs a wedding invitation that's also a record, and a record player. Check out the video.
---
Also see: