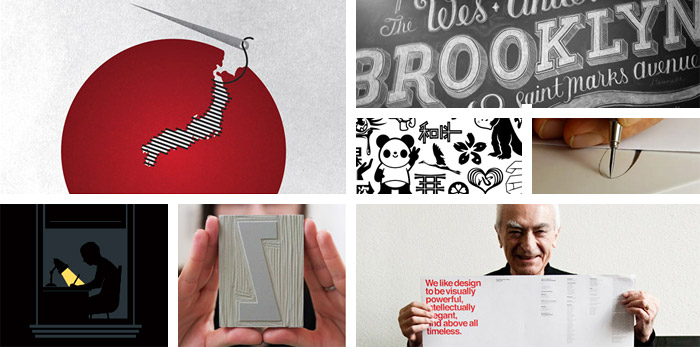 On March 11th, Japan was hit by the most powerful earthquake in a century. Designers step up with Designers for Japan and The Poster Cause Project.

Lettercult's annual roundup of custom lettering is so full of eye candy, they had to release it in two parts.

SOTA's latest benefit project supports relief efforts in Japan.

Looking back at the life and work of the incredibly talented Doyald Young.

Josh Smith on Frank Chimero and supporting the design community.

Everyday in March, designer Aymie Spitzer carved one linocut letter.

Michael Bierut highlights five quotes honoring Massimo Vignelli, recipient of The Architectural League of New York's President's Medal.

From designer Ji Lee comes an online game that tests your knowledge of classic movies. Can you identify these eight films?

Khoi Vinh creates "How to use a magazine", a parody on unnecessary explanations.

A web designer's introduction to typeface selection from Stephen Coles, Frank Chimero, Tiffany Wardle, and Jason Santa Maria.

National Geographic creates real-life floating house, inspired by Pixar's Up.

Jim Hughes takes a look at the history of LEGO packaging design.

Michael Wolff, co-founder of Wolff Olins, talks about his approach to looking at the world in this short documentary.

Find out the difference between Kraft Dinner and Kraft Macaroni & Cheese.

On Kickstarter, an interactive guide to the U.S. federal budget.

Making the rounds on the web, Benjamin Franklin's daily schedule.

Where awkward stock photos finally have a purpose.
---
Also see: