Monthly review, Vol. IX
Comments: +
November 5 2010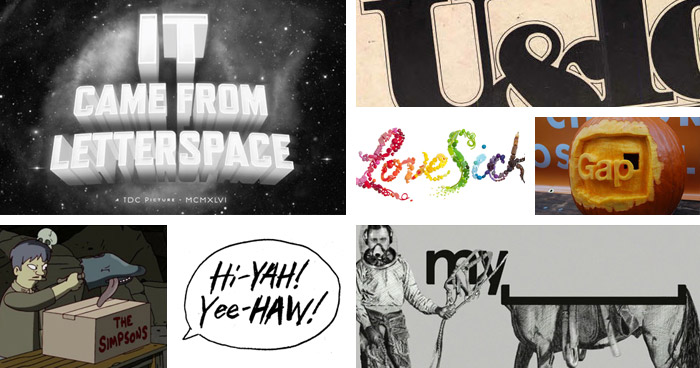 Classic B-movies and typography come together in a series of online postcards designed by Will Staehle for the Type Directors Club.

Over 35 years since its first publishing, the classic typographic publication is back as high-resolution PDF downloads from Fonts.com (for free!).

Jason Santa Maria treats us to another helping of candygrams.

Baffling designers and consumers alike, Gap's new logo was short-lived.

The renowned graffiti artist puts a twist on the 'couch gag.'

Frank Chimero on 'How not to be a dumb ass super-computer.'

Myspace launches a new identity, dropping the word 'space' in favor of a adaptable blank line. Can the efforts revive the dying social network?

Poster series highlighting the most iconic men's eyewear of the past one hundred years, designed by Glenn Manucdoc of Moxy Creative.

An intro to graphic design in less than 2,000 words, by Design Observer.

In celebration of the 20th anniversary of Photoshop, Hyperakt goes PSD.

Using nothing but type, Axis Maps accurately depict streets, highways, parks, neighborhoods, coastlines, and the physical features of a city.

Designed by a perfectionist and self-taught printer, Baskerville is the eighth font to be explored in idsgn's 'Know your type' series.

Hoefler & Frere-Jones take us on a behind-the-scenes look at some of the invisible details that go into their typefaces.

It's back with 30 more conversations with a wide range of creatives.

Unlogo attempts to eliminates logos and other signage from videos.

New curated guide to creative events in the US and UK.

Redesigned movie posters inspired by men's style.

Its fo rizzle tellivizzle dolizzle phat amizzle, consectetuer adipiscing crazy.

The results are in from A List Apart's annual web design survey.

Jonathan Blaustein photographs a dollar's worth of various foods.

Justin LaRosa and Samuel Cox use LEGO pieces to make prints.
---
Also see: