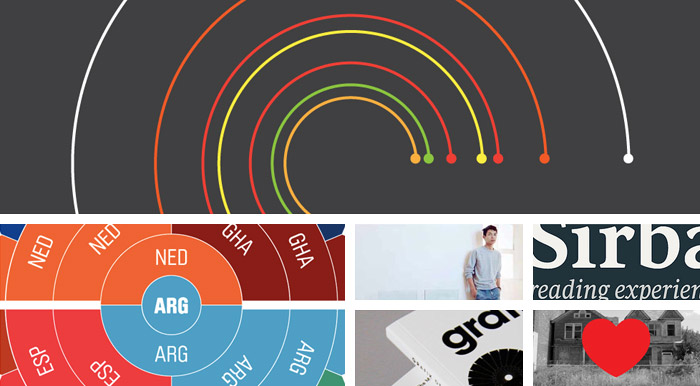 BP's Deepwater Horizon offshore oil rig exploded April 20th, killing 11 workers, and continues to leak as much as 60,000 barrels of oil into the Gulf of Mexico each day. Positioned among the world's worst over a month ago, the spill has now become the largest in the Gulf's history (and U.S. history). A group of design and technology companies have come together to create Kill the Spill, raising funds to help wildlife affected by the disaster.

It's hard to escape the excitement of the World Cup. For soccer-obsessed designers, NYC's Hyperakt created a poster to commemorate the event.

The New York Times discusses the life of designer Tobias Wong.

TypeTogether discusses piracy and fonts on the Web.

Grafik magazine is shut down by its publisher.

Detroit, a city that has suffered such highs and lows, calls for change.

Following New York State's unfavorable refresh, Fast Company asks four designers to re-imagine the license plate.

Unless your name is Massimo, chances are you have more than three or four typefaces. idsgn asks four type experts how they manage their collection.

Shit Ampersand collects the 'worst ampersand designs in typographic history,' including those found in Bradley Hand ITC, Ponderosa Std, ITC American Typewriter, and others.

Cooper-Hewitt announces the winners of its 2010 National Design Awards, including Stephen Doyle for Communication Design (work pictured above).

Typeface is out on DVD and idsgn readers can save 15% until July 31 (coupon TFIDSGN0710). Also, congrats to our #iloveletterpress winner!

Movable type is no longer sustainable in its country of origin.

Core77 announces the winners of the Betacup design competition.

Dwell visits the supersleek Berlin home of typographer Erik Spiekermann, featuring a 2-story bookshelf with remote-controlled mountaineer's harness.

Aeron chair apprentice Jeff Weber invents a new crutch.

BaseDesign re-imagines the NASA logo for the future.

Renovations at a London tube station uncover posters circa 1956—59.

The story behind CNN's logo, designed in 1980 for under $3,000.

Khoi Vinh discusses typography with iPhone 4's Retina Display.

Popular typeface Gotham becomes a plot point in The Scarpetta Factor.

Support Haiti with this poster by idsgn contributor Josh Smith.

Typography legend John D Berry offers Dot-font as a free download.
---
Also see: