A study from the University of California suggests that an average American consumes 34 gigabytes of data each day. That's a lot to sift through. Fortunately, the 
idsgn

Monthly Review highlights the most important happenings over the past month so you don't miss a thing…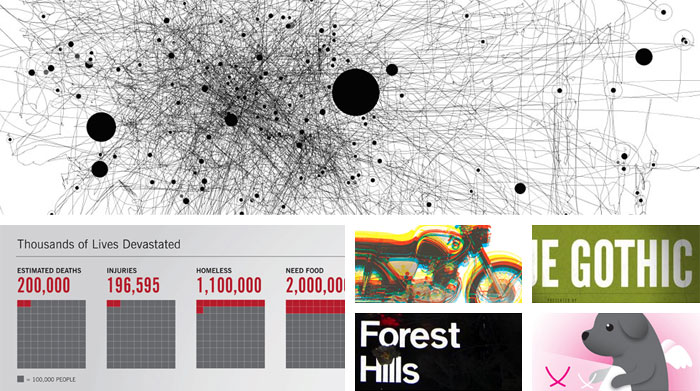 Made by Moscow-based designer Anatoly Zenkov, IOGraph (formerly known as MousePath) tracks your cursor's every move and turns it into art.

Designers lend a hand following the recent disaster in Haiti using ampersands, infographics, posters, and more posters (call for entry).

AIGA launches a highly anticipated (much-needed) redesign.

Ellen Lupton introduces typography to the red carpet.

Paul Shaw uncovers the truth behind Helvetica & NYC's subway.

Our friends at Under Consideration transform cupid.

Finally, real fonts on the web! Courtesy of FontFont.

Jay Leno returns, but his Tonight Show logo does not.

Designer Steven Heller traces the evolution of the tiny symbols for each Olympic sport since their appearance in 1936.

Design Related interviews DJ Neff, the art director behind Chiquita's playful new brand refresh. Neff injects a series of playful illustrations into the brand's iconic blue stickers.

Designed by an architect, and known today as the face of The New York Times, Cheltenham is the latest in our 'Know your type' series.

We'll admit it, we watch the Super Bowl mostly for the ads (one of our favorites came from Google). Related: new logo standards.

Jamie Oliver wins with his wish to teach every child about food.

MTV drops "Music Television" from their logo.

Joe Schulz's photograph series strips down highway signs.

Focus explains the Internet in one gigantic infographic.

ISO50 asks Erik Spiekermann, Nicolas Felton, and others how to beat creative block.

Wired attempts to transform the magazine experience with their tablet/iPad concept.

São Paulo, Brazil bans all outdoor advertising in an effort to rid the city of what the mayor calls "visual pollution."

Designer George Lois tells the stories behind his twelve favorite classic Esquire covers.

Xfinity (formerly Comcast) tops TIME's worst name change list.

The album covers behind this year's Grammy winners.

A new book on designing creative portfolios.

How strongly do you associate colour and imagery with brands?

Designer Jessica Hische illustrates how her taste in type has evolved.

Tositos take over Vimeo, in an ad by Goodby, Silverstein & Partners.

BBC goes behind the scenes on their new "global visual language."

Sean Adams explains what Oompa Loompas can teach us about color.

For the first time in Layer Tennis history, a typeface was designed live in fifteen minute increments.