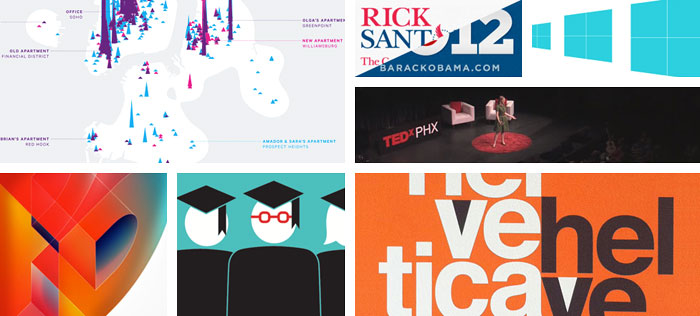 Nicholas Felton releases the latest installment in his annual reports, full of beautiful data visualizations.

Heller, Millman, and Twemlow weigh in on the U.S. presidential campaigns.

Pentagram's Paula Scher redesigns the iconic Microsoft Windows logo.

Speaking at TEDx, Brooklyn-based designer Kelli Anderson inspires disruptive wonder through her work.

Chris Rushing draws letters, numbers, & glyphs and posts them to Tumblr.

Thomas Wilder takes on the controversial subject.

Judged by type experts including Roger Black and Veronika Elsner, FontShop's "100 Best Typefaces of All Time" is now available in Engligh.

Okay Type releases The Harriet Series, a handsome new serif typeface set with 8 text and 12 display styles.

Erez Horovitz directs a music video for Josh Ritter using 12,000 pieces of construction paper (and no post-production).

Italian artist Anna Utopia Giordano gives famous artworks extreme Photoshop makeovers in her Venus project.

Travis Pitts nails the biggest design clichés in movie posters today.

A look at how Stieg Larsson's The Girl with the Dragon Tattoo is branded across the globe.

Dropmark is a cloud collaboration and sharing app for creative professionals.

Objective Subject redesigns the identity for Associated Press.

Kern and Burn curates discussions about design entrepreneurship.

20 fonts and the cats that clearly inspired them.

Designer and writer Frank Chimero launches a new website.
---
Also see: