Monthly review, Vol. XXII
Comments: +
December 7 2011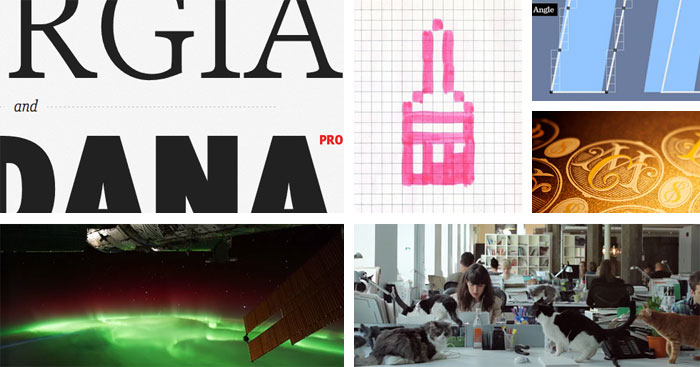 We first shared the news over 2 years ago, and the wait is finally over. Typeface designer Matthew Carter talks to Co. Design about the redesign.

An inside look at the first Macintosh icon sketches by designer Susan Kare.

Jonathan Hoefler discusses "Type at the Crossroads" at AIGA Pivot.

The fourth installment of typographic magazine 8 Faces is out now.

Michael König creates a breathtaking high-definition timelapse of Earth, as seen by the International Space Station.

To stay on top of the ever-changing advertising landscape, Canadian agency John St. opens the world's first cat video division.

From TIME to Vogue, debut covers from popular magazines.

French blogger Christophe Courtois compares hundreds of Hollywood movie posters to find common and overused themes.

Ever find yourself looking for the copyright symbol? Or perhaps a Unicode snowflake? CopyPasteCharacter from Konst & Teknik & Martin has you covered.

United Colors of Benetton looks to shock with their "Unhate" advertising campagin.

New York Times on how Saul Bass revolutionized the film title sequence.

London design studio BERG creates a device that prints mini-newspapers.

Christoph Niemann live-sketches the New York City Marathon.

Stop motion music video made with 288,000 jelly beans over 1,357 hours.

The Mexican government has a new typeface thanks to Kimera Type.

Tips Grandma never gave, from Spanish designer Chacho Puebla.
---
Also see: