Monthly review, Vol. XIII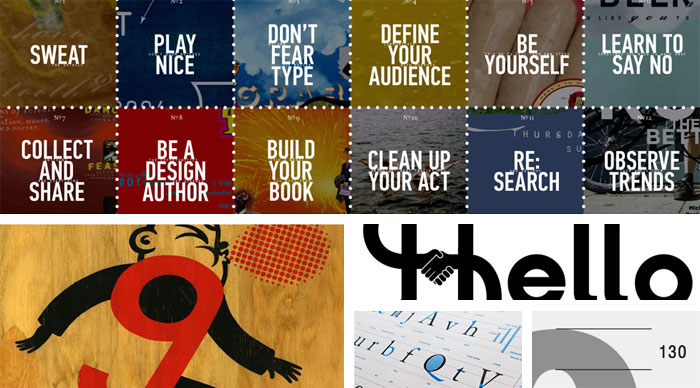 Doug Bartow and his colleagues at id29 share twenty-nine things they think all new designers need to know (and aren't always taught in design school). Originally featured in HOW magazine, it is now available as a limited-edition poster.

Jessica Hische invites 26 special guests to complete the twelfth and final alphabet for Daily Drop Cap.

Submit a letter, word, or phrase and Drew Melton makes it beautiful with custom type.

A comprehensive guide to the anatomy of type (in poster form).

Flat. Generic. Invisible. Myriad is the latest in our 'Know your type' series.

A #2 pencil that speaks its mind, available on Etsy.

Watch the 50 greatest opening title sequences of all time, according to IFC. Related: Now and then: How film titles have evolved.

Did you catch the newly redesigned envelope this year at the Oscars?

To fund his latest film, Gary Hustwit turns to Kickstarter.

Michael Carney wins a Grammy for best package design with Brothers.

Designers.MX is a growing collection of online mixtapes from designers.

Designer Nicholas Felton unveiles his latest annual report, encapsulating the life of his father.

Andrew Byrom turns his old desk into new business cards.

Andrew Clifford Capener reimagines the board game for typophiles.

The Lost Type Co-op announce Munchie, a typeface made in 24 hrs.

Designer Marian Bantjes chooses to follow love over money.

Steven Heller hunts down a Nazi graphics standards manual.

Seth Godin on why there are no words on the cover of his new book.

Photographer Irina Werning has her subjects reenact classic photos.

Portugal's i wins the title from Society of News Design.
---
Also see: