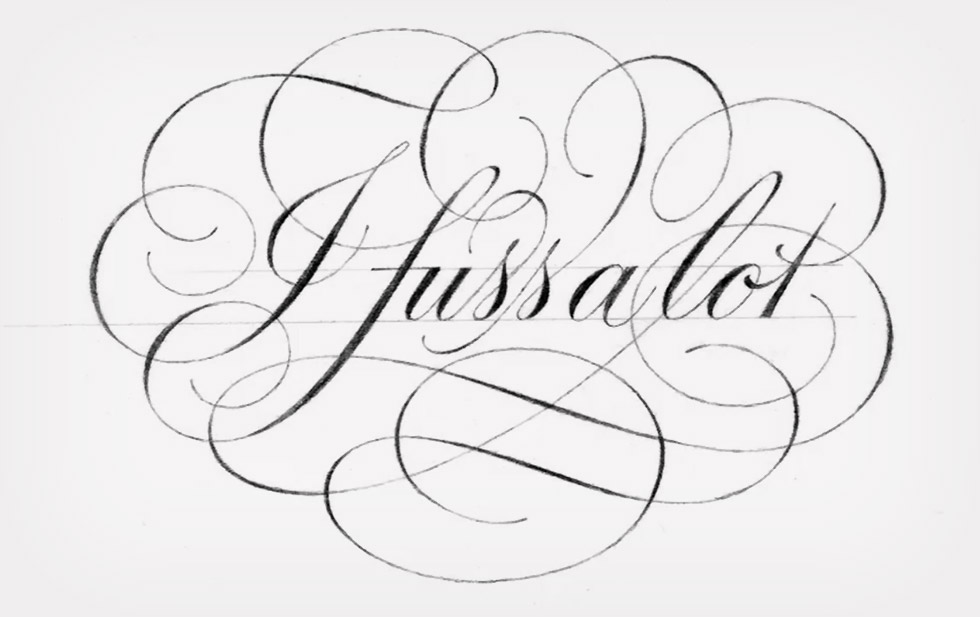 "Decide who you are, decide what you want to do, and then do it, because it is surely possible."
Wise words from an incredible individual who left the design community all too soon. Doyald Young, a designer, writer, teacher and mentor, regrettably passed away February 28th from complications during heart surgery. Although this extremely talented and passionate designer is no longer with us, his lifetime of work will carry on and be celebrated by all who encounter it.
Young's path into the field of design was not a direct route. He ran away from home at the age of 15 and did not complete high school. From there he worked a slew of odd jobs ranging from an usher at Radio City Music Hall to a golf club factory worker. Eventually he landed in Los Angeles and enrolled at Art Center. It was in 1955 when Young's official professional design career began when asked by Mortimer Leach to teach classes at Art Center.

Collection of books on logotype design by Doyald Young (left); Pencil sketches for Young's Eclat typeface (right).
Specializing in logotypes, typefaces, and trademarks, Young is most widely known for his knack of crafting uniquely beautiful script faces. His scripts include Home Run, Young Baroque, Young Gallant, and the ever popular Eclat—to name a few. It is often noted that his innate ability to produce these legendary script faces is nearly unmatched. The craftsmanship behind each letter of each face is a credit to Young's meticulous work ethic where he paid careful attention to detail.
Young's profound dedication to design was well rewarded. Whether deliberately or unknowingly, you have certainly had the privilege of viewing his work. Young's clients were far ranging, appealing to everyone from the general public to niches within the design community, and included the Hilton Hotels, John Deere, Prudential Financial Group, Disney, The Art Director's Guild, and Mattel Toys.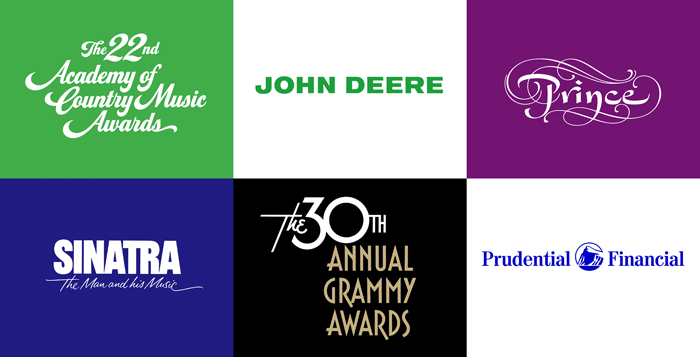 Young was also a professor at the Art Center College of Design in California where he was named the Inaugural Master of the school for his contributions to the field of art and design. An inspiration and mentor to the vast number of students he advised over the years, he was much more than just a teacher to them. STEP magazine once asked Young, "You're a teacher at Art Center where you teach classes in letterform design. In fact, you've said that you don't see yourself as a font designer, as much as a logo designer and a teacher…" to which Young responded:
I have taught 4,000 students or more—difficult to count them up over the years, but it's in that neighborhood. I truly enjoy teaching. Some of my dearest friends are former students, and teaching is one of the most rewarding things that I've done.
There have been many incredibly talented designers in this profession over the years, but it takes a special person to approach both students and the industry with such love and passion.
Behind the type: A clip from Lynda.com's 2010 documentary film on Doyald Young.
Young had certainly earned immense respect within the design community and in 2009, he received one of the most coveted design awards, the AIGA medal, which honored his commitment to excellence within the field of graphic design.
Young's death is a great loss, but his work will continue to shape, grow and benefit the ever expanding field of design, which he dedicated much of his life to. Even to those who never knew him, like me, his legacy is truly inspiring. We will miss you, Mr. Young.
---
Thomas Wilder is a multidisciplinary designer living and working in New York City. He has worked with clients such as Kayak.com, Tiger Woods, and NYEHAUS. He graduated from Penn State University with a Bachelor of Design in Graphic Design. You can follow him at @ThomasWilder.