Monthly review, Vol. VI
Comments: +
August 11 2010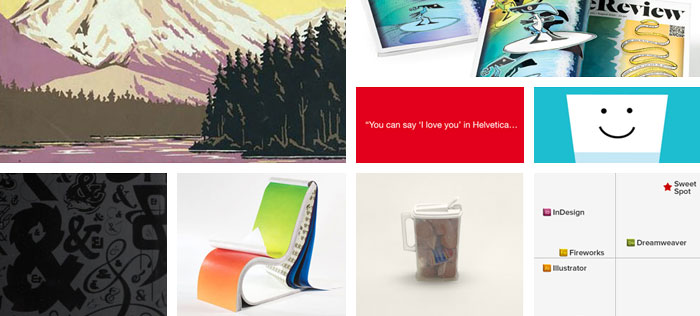 In time for summer vacation, National Geographic digs up a collection of vintage U.S. Parks posters from the Library of Congress.

Creative Review's August issue lets you relive the best part of summer camp—craft time! Complete with 'designer' paper dolls and pinhole cameras.

idsgn interviews 5 creative couples that live, work, and design together.

Positive Posters asks designers to look on the bright side.

MyFonts' wonderful interview series is now available in book-form.

Stefan Sagmeister designs a chair with 230 tear-away patterns.

Taryn Simon documents strange cargo at JFK in a new book and exhibition.

Jason Santa Maria creates a wishlist for a better web design application.

Inspired by The Divine Comedy, Daniela Meloni's The Branding Comedy explores the afterlife of popular brands in Hell, Purgatory, and Paradise.

Designer and recent BFA graduate Erik Askin takes a theoretical look at designing inefficient packaging.

Ever wonder how to make a proper long black? Or the perfect macchiato? Plaid's Perfect Pour is an infographic guide to the complex world of coffee.

A one-day event from our friends at UnderConsideration, Nov. 5 in NYC.

Creative Review speaks with Bruno Maag on Aktiv Grotesk.

WSJ explores the emerging trend of elaborate publishing.

A new print magazine for devotees of typography.

Comic Sans makes headlines following Dan Gilbert's rant on LeBron James.

…meanwhile the typeface everyone loves to hate is refreshed for 2010—along with contemporaries Impact and Trebuchet.

FontFonter lets you test out webfonts from FontFont on any website.

Dominos takes us behind the scenes of a pizza photo shoot.

Print magazine introduces Imprint, a new blog lead by Steven Heller.

Inspiration Pad puts a twist on the notebook.
---
Also see: