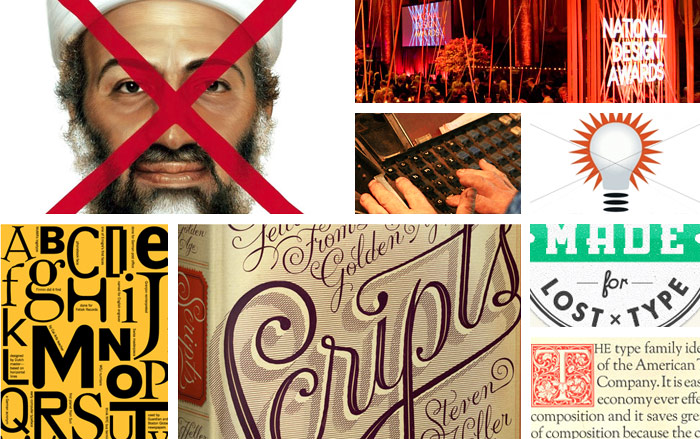 It made headlines on May 2, 2011, and for the fourth time in history, TIME prints their red X cover (first used in 1945 after the death of Adolf Hitler).

The Smithsonian announces winners of the 2011 National Design Awards, including Matthew Carter (Lifetime Achievement), Steven Heller, and more.

The Atlantic looks back on the history of the Linotype machine.

Thomas Wilder sparks a conversation on crowdsourcing and 99designs.

@issue challenges you to name the 23 typefaces inducted into MoMA.

Steven Heller and Louise Fili collect over three hundred elegant and eccentric lettering samples in Scripts: Elegant Lettering from Design's Golden Age.

Riley Cran and Tyler Galpin launch a pay-what-you-want type foundry.

Paul Shaw on what constitutes a flawed typeface.

From Idée Labs comes Multicolr Search Lab, a visual search engine that examines colors from 10 million Creative Commons images on Flickr.

The Wall Street Journal on the vintage packaging trend, and why companies like Procter & Gamble and General Mills are jumping on the bandwagon.

Trendland collects 100 vintage cereal boxes from the cereal box archive.

idsgn visits the Neon Boneyard in Las Vegas, Nevada.

Influential designers talk about failure for the Berghs Exhibition.

NPR's The Big Picture show looks at a photo worth $3,890,500.

Vincent Morisset explores human communication in an experimental, interactive film for the National Film Board of Canada.

From Typotheque, an app that turns text into choreographed poses.

United Pixelworkers gives props to Brooklyn and Manhattan.

Hoefler & Frere-Jones release a new sans serif font family.

A board game for graphic designers, currently funding on Kickstarter.
---
Also see: