Typographic oasis: The Neon Boneyard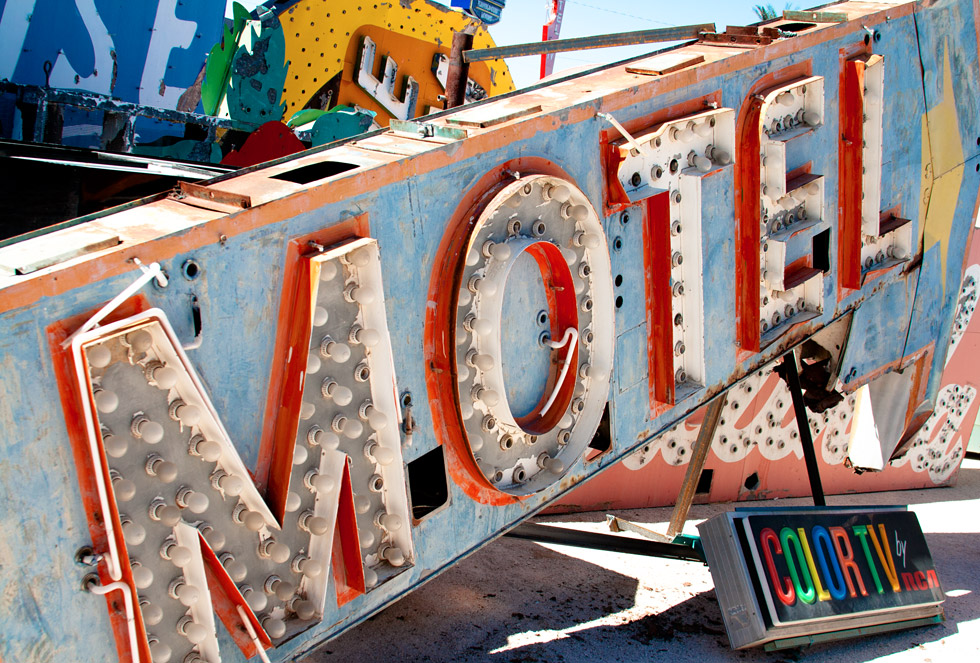 In the most unlikeliest location lies a typographer's oasis.
Far from the intellectual boomtowns, surrounded by desert, in a dusty industrial lot, hides an oasis of ascenders, ampersands, and slab serifs.
Any type-nerds or inclined designers should first be prepared to pass through an army of Ed Hardy-shirted, barbed-wire-biceped, faux-hawk-wearing-infantry that serve as a sturdy wall of defence to this sanctuary of letters. The unruly guard preserves the secret of a place called the Neon Boneyard.
It is here—within a wall of chain link, across from a housing complex—that onlookers can stand beneath a two story cursive signature, penned by Liberace himself.
The boneyard lies just outside of America's buffet and yard-long margarita capital: Yes, it's Las Vegas.
To get here, just travel away from the strip to the old strip, then travel off that strip, too. On the outskirts of the outskirts, you'll find the Reed Whipple Cultural Center where you'll join a handful of confused tourists, type-nerds and other odd-balls. Here you'll wait for one of the dedicated staff to escort you across the street where they will proceed to unlock the padlock, opening a world of wonder.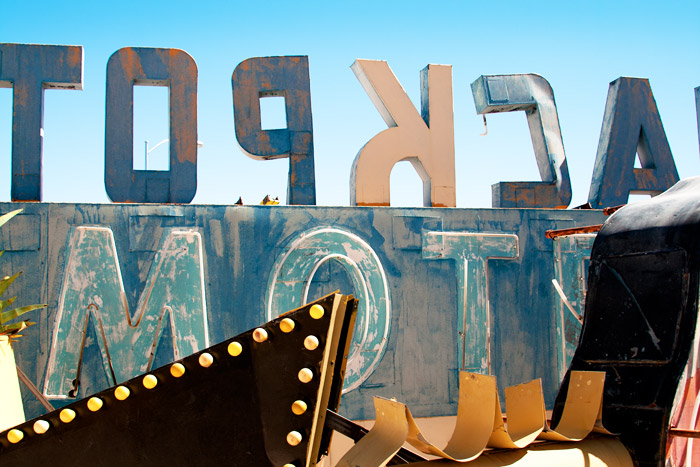 The Neon Boneyard originated from storage lots owned by major sign manufacturers like YESCO. These 'boneyards' would house discarded signage to be used for their source parts or "bones" in the creation of newer, updated signage. As projects grew in scale, the sign makers could no longer house the volume of leftover signs and they began shipping used marquees straight to the dump. An outraged public, the Nevada Arts Council and YESCO stepped in to preserve the neon markers of Vegas past.
The boneyard resides in a large industrial backlot that holds a meandering path through over 150 signs from the 1930s to present day.
This winding, dirt path reveals a visual history of Las Vegas and early America. What becomes evident on exploring these typographic sculptures is that they are so much more than just leftover facades. The boneyard is a tangible history of technology, industry, style, entertainment, pop culture, and most of all: design.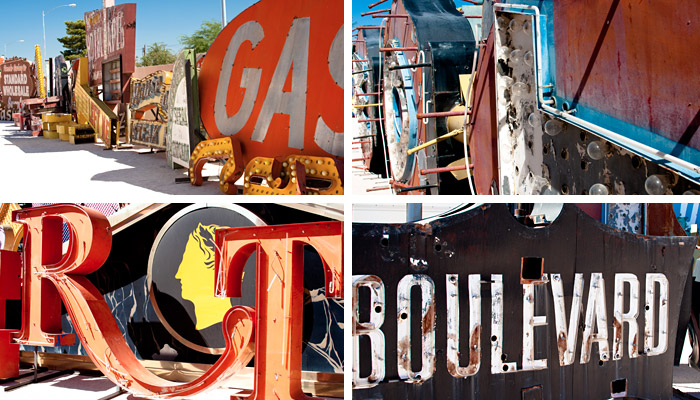 Marquee signs announce the rat-pack era with glitz and glam and bulbs aplenty to serve performers like Sammy Davis Jr. and Sinatra. Then there is signage built for America's car-culture period, enticing travellers from the highway to their motels and casinos. Art deco and space-aged futurism pronounces the '50s and '60s. Later, signage becomes so huge it overshadows architecture, and casinos are built with branded signs and facades in mind more than the buildings. Celebrity culture arises and casinos re-brand to capitalize on famous headliners and pop culture icons. (The current trend is Casino signage that merges with the architecture completely, creating one giant, branded sculpture like the Luxor pyramid or New York, New York.)
Along the way you'll find the original signage for The Moulin Rouge, Sin City's first desegregated casino. Further beyond that is the entrance to the Stardust hotel, standing like a golden era imagined-future, with its 'jetsonian' lettering. A well-informed guide recaps the story of when the Stardust lettering was later replaced by Futura Bold when the hotel decided to take on a more corporate persona. When the angry local community protested, management formally apologized to the public and re-instated as much of the former signage as possible (who says the public doesn't care about typography?). Liberace and Debbie Reynolds have their personal signature immortalized in neon and steel, the latter of which adorned the first and only non-smoking casino in Vegas, a short-lived venture. Apparently the Vegas public didn't share Ms. Reynolds' healthy attitude.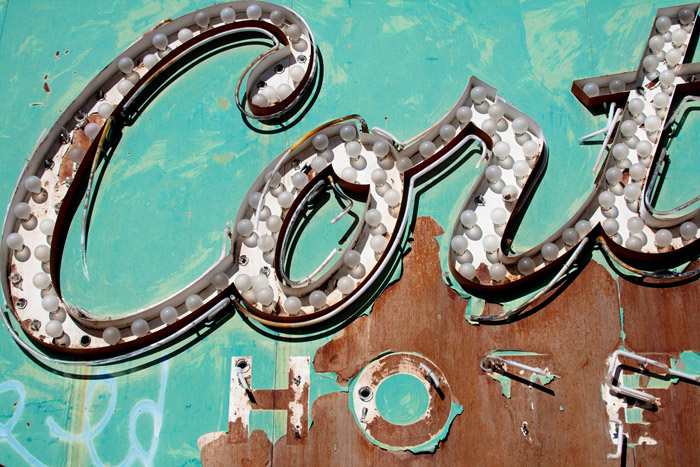 But for those of us interested in the details, for those few who will pay scrutinous attention to the typographic minutia and the design that the others will not see, you'll have to experience for yourself what it feels like to stand beneath a seventy-foot tall initial. Or see up close, the delicate curves of a swashed signature pounded into sheet metal. It's hard not to be impressed by the physicality, craft, and art-form in the construction and precise details of every letter. Aside from the craft, you'll see up-close letterforms that are so unusual, but reflective of an eclectic history that is now only barely captured in design books.
In 1996, the Boneyard became a legitimate nonprofit organization, registered with the state of Nevada as the Neon Museum. It is tasked to "collect, preserve, study and exhibit neon signs and associated artifacts to inspire education and cultural enrichment for diverse members of our international community."
The museum is currently in the midst of a major renovation. The outdoor lot will be accompanied by an enclosed space: a proper museum that is currently under construction. In true Las Vegas form, the architecture itself will be a restored designed by a Sin City legend: Paul Revere Williams, who designed the Shrine Auditorium.
In whatever form, the secret of the Neon Boneyard is worth exploring, even if you might have to pull a few slots, brave a few yard-long margs, or stomach a few buffets to get there.
View more photos from our visit to the Neon Boneyard on Flickr. For more information or to plan a visit to the Neon Museum in Las Vegas check out neonmuseum.org.
---
Josh Smith is a graphic designer and co-founder of idsgn. He lives and works in NYC. You can follow him at @joshsmithnyc