Fresh & hungry: Jessica Walsh
Comments: +
November 22 2010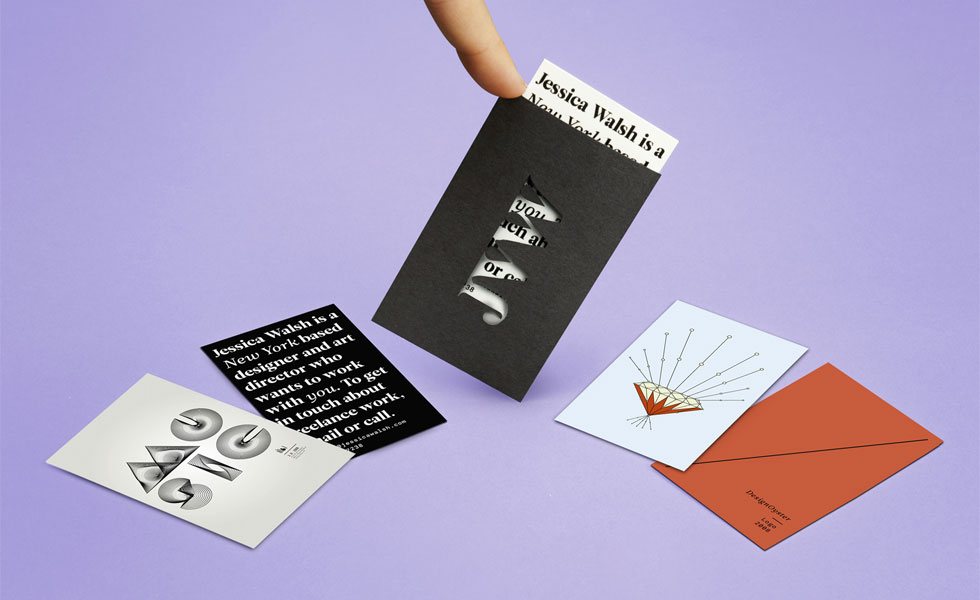 As part of our Fresh & Hungry series, past ADC Young Gun recipient Chris Rubino speaks with new winner Jessica Walsh, a multidisciplinary designer living in New York City.
CHRIS RUBINO: I immediately gravitated to your work when looking through this years winners, many times thinking, 'shit, why didn't I think of that.' Also you've found multiple reasons to either wear body suits or paint yourself (or maybe that's not you?). The work definitely is coming from the same creative mind but I'd like to talk a bit about the process from inception, do you have a growing list of techniques you want to explore?
JESSICA WALSH: Yes that would be me, didn't think anyone would notice! I love painting a person or object, and seeing how it transforms into a sculpture. I have a personal project that I'm working on now involving painted people, but this time not myself. As for techniques, I'd love to work with 3D printing. I am completely in love with laser/die-cutting so it seems like the next step.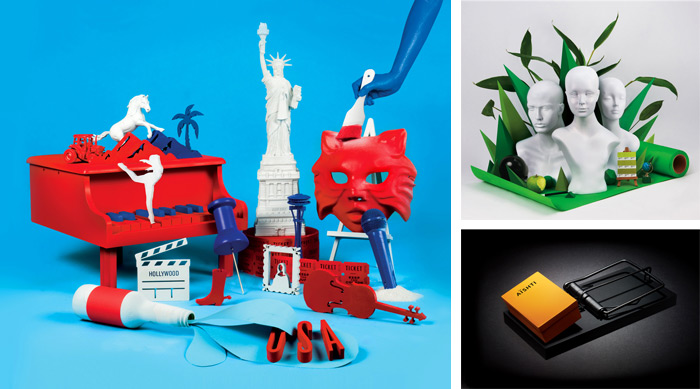 Yeah, laser cuts are so beautiful. During the many varying processes you've explored woodworking, photography, neon, do you have any amazing stories or maybe even possible warning for other creators?
A few warnings… I used to work on photo illustrations and after hours of creating and suspending objects in space with fishing wire the setup would topple over right before I took the picture. I finally learned it is much easier to use sturdier metal wires to hold things together and photoshop them out later. Neon is fun to work with but breaks easily, luckily I had photographed it before it broke. I also once passed out spray painting tons of objects for a photo illustration without a mask… wear one! But I always have a lot of fun in my work, and it's very satisfying to get off the computer occasionally. The amazing part is getting paid to have so much fun.
I always have a lot of fun in my work, and it's very satisfying to get off the computer occasionally.
Yes, we have awesome jobs that sometimes unfortunately cause us to pass out. So lastly, I'd like to know what are you currently pursuing or what isn't happening yet that you're interested in making happen?
I currently work for Stefan Sagmeister full time. It is an amazing place to be. I'm working on a mix of identity projects, design & art direction for advertising campaigns, and a few different typographic installations. One day I'd love to set up my own studio and be able to spend more time on my personal work. I have a lot of ideas for projects, but not always the time to see them through. But for now I'm pretty happy!
Thank you so much Jessica, best of luck and enjoy painting those people.
---
To see more of Jessica's work, visit jessicawalsh.com.
Explore the Fresh & Hungry series:
---
Chris Rubino is a New York City-based artist/designer whose work has been exhibited in Europe, Japan, Hong Kong and the U.S. He likes to spend his vacations in the desert and has been in a number of motorcycle accidents. He would very much like to meet Lawrence Weiner one day. Visit his work at www.chrisrubino.com.