Fresh & hungry: Jennifer Daniel
Comments: +
November 26 2010

Chris Rubino speaks with Brooklyn-based designer and illustrator Jennifer Daniel, our next Fresh & Hungry subject.
CHRIS RUBINO: It's about time. I feel like I've been enjoying your work for 10 years, which means we met when you were maybe 16 and I was was 25? Apologies for attending parties I shouldn't have been at. Anyway, your work (as you know) is great, and it's very much based in a modern iconographic language, often a comical one. Why do you think designers are so serious about design? That bothers me so much. Is your work a reaction to this attitude?
JENNIFER DANIEL: Oh Chris, you have underestimated me. Sure, I'm 'fun and silly' and a 'bad girl' but occasionally I too have an expensive limited edition ornament stuck up my ass like any other designer. When I am allowed to remove it I am afforded with the comfort to enjoy and love my job.
You could say my sense of humor is a reaction to my surroundings and you'd probably be right. I've come to associate laughter with approval. I'm too insecure to simply draw something and share it and you look at it in silence. Though, that happens a lot too.
A joke can suffer when I anticipate if someone will laugh or not so I try not to consciously think 'What is funny?'. I focus more on 'What is provocative?,' Provocative makes people think, funny makes people laugh. Sometimes I get to be both and that shock and delight often resonates with people with more clarity than just one or the other. But, for other times people love a good Jew joke.
Sorry, I'm not allowed to laugh at those.
You could say my sense of humor is a reaction to my surroundings and you'd probably be right. I've come to associate laughter with approval.
I like that your style changes piece to piece. Was this a result of working on the inside of the editorial world, were you playing multiple parts? And now that you're a star, do you feel like we'll be seeing less of this, seeing more of a uniform style?
I often use familiar visual vernaculars like clip art or iconography. I enjoy repurposing something that is ordinary and giving it a twist to say something unexpected.
I wish I could say I think of myself as an art director first and an illustrator/designer second but I've acquiesced to the voices of all three in a way that is hard to distinguish one from the other. As for range of style, I'm not sure I have a choice in the matter. I'm a slave to the message. Sometimes a photo illustration is more bold than a drawing. Sometimes a drawing is punchier than a photo. I guess my 'style' is my disposition.
Definitely, I think that comes across quite well in your work.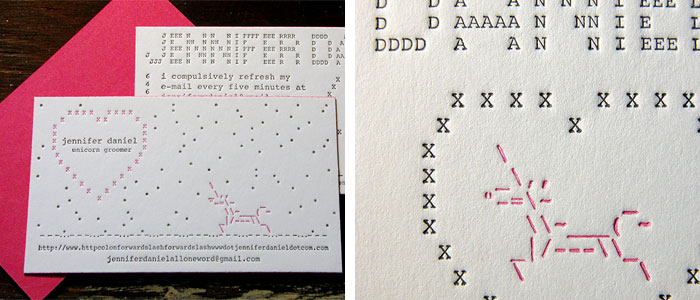 So, what's next? Anything you are currently pursuing or something you're interested in making happen that hasn't yet?
I'm really thrilled by all the new opportunities and work I've done just in the past year alone. I'd like to write and draw more crazy complicated charts. Sometimes I wonder what it would be like to have the same job everyday but then my crippling fear of commitment kicks in. I'm spoiled by my sexy noncommittal clients who call me when when they want something weird and bold. Don't tell anyone but I have no idea what I'm doing but I know I love it. I'm not sure where I am going next and that usually leads me someplace else.
I'm sure I'll run into you there as well, thank you Jennifer.
---
To see more of Jennifer's work, visit httpcolonforwardslashforwardslashwwwdotjenniferdanieldotcom.com.
Explore the Fresh & Hungry series:
---
Chris Rubino is a New York City-based artist/designer whose work has been exhibited in Europe, Japan, Hong Kong and the U.S. He likes to spend his vacations in the desert and has been in a number of motorcycle accidents. He would very much like to meet Lawrence Weiner one day. Visit his work at www.chrisrubino.com.