Hungry & humble: Part two
Comments: +
November 30 2009
Past ADC Young Guns honoree Chris Rubino continues his discussion with some of the talented young designers who recently joined the ranks in 2009.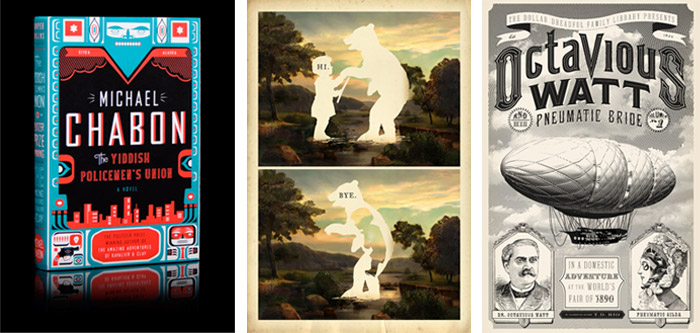 CHRIS RUBINO: Your book covers are fantastic, have you seen any in recent memories that gave you that "damn, why didn't I think of that?" moment.
WILL STAEHLE: Yes. I've always had those moments. Back when I was living in New York and doing book covers full-time, I actually had a difficult time walking into a Borders or a Barnes & Noble. Partially, it was for the fact that I could "see" the back stories of various covers and often knew of the painful, ulcer-inducing tales behind their making… but the other part of it was, inevitably, going to the book store and seeing "that book" that you wish you had done. I don't have any specific examples off-hand, but there are always a handful of designers that I always look out for on the shelves... Amongst them: Peter Mendelsund, Evan Gaffney, Grey 318, Henry Sene Yee, Roberto de Vicq de Cumptich, and Jacob Covey.
I like that you are pursuing many avenues of design simultaneous, this seems to be an overarching theme more and more in the Young Guns groups. What do you think of yourself as/how do you tell people what you do?
I tend to think of myself as a designer who does illustration. As far as my interest in many avenues of design… I think the answer is simple. It's all really fun. Plus, diversity keeps things interesting. I get a different kind of challenge and enjoyment out of an illustration than I do designing a book jacket, or doing custom-lettering. And the best thing of all for me is that one informs the other. I can't tell you how many times I've used a concept or inspiration from one medium or project for another.
Agreed, I think a lot of us are working that way now. Okay, to finish, what's next?
I do truly love books, and want to continue designing jackets. I want to continue to do other client-based design work as well, and find ways to work with more small to medium range clients. The other half of where I'm trying to go is a more "selfish" direction as I work on expanding upon my latest personal venture, which is my modern Victorian Emporium that I run with my wife. Through the Bazaarium, we sell modern Victorian dime-novels, framed silhouette prints, and various other novelties. This has been a lot of fun of late, and I feel like I can make it into a large part of what I'm doing on a day-to-day basis.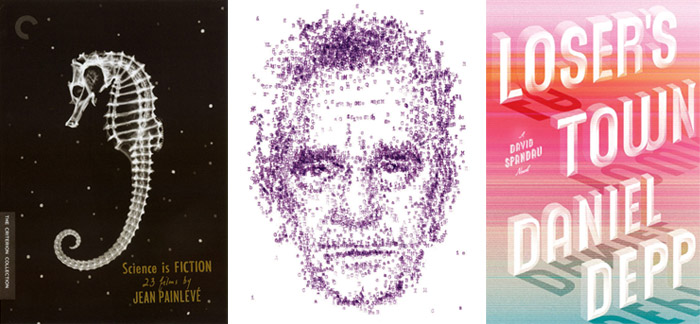 CHRIS RUBINO: Your use of color really stood out for me, I find that color is something that is very personal. What do you consider your major color influences?
BEN WISEMAN: I like to use color as often as possible, and I always look to the project or the text to lead the way in choosing a color palette. I find color daunting, so starting a project becomes a process of trial and error, usually with a lot of squinting. Sometimes I get it wrong. For Loser's Town, I really wanted to make a black and white cover, but the publisher wanted color. That suggestion turned it into a favorite cover of mine.
You're involved with some great publications, keeping print alive! Which are your favorites and are there any you have for a guilty pleasure that you feel could use a redesign?
Editorial illustrations have been some of my favorite projects. The extra tight deadlines inspire quick thinking and force me to not procrastinate. A favorite piece is the portrait of Gabriel García Márquez for the New York Times Book Review. It was maddening to spend a whole day moving around letters so that they became a face, but knowing it was going to be printed the next week and in newspapers everywhere was just enough pressure to get it right.
What are you currently pursuing and/or what isn't there yet that you're interested in making happen?
Currently I'm freelancing, working mostly on book jackets. When I decided to become a graphic designer, all I ever thought I wanted do were book jackets, and now that I've been doing that for a couple years, I'm starting to think about what else is out there. I would love to do more custom lettering and illustration, and I think it would be a nice change of pace to get into advertising.

CHRIS RUBINO: Your work often straddles those fine lines or design, illustration, fine art. At a party what do you say to the proverbial "what do you do?"
MARIO HUGO: I don't have a description I'm solid about. I'd prefer to make stuff than spend time drawing distinctions between the stuff I make. It can be uncomfortable calling it one thing or another and I'm as gray as possible about this stuff, so I guess I answer this party question poorly.
I applaud your ability to rarely use any color. Why/how did this happen? Are you way into Morrissey?
I'm flattered, but I'm just pretty colorblind and I guess I find color kind of distracting. I'm more interested in composition, balance and light because it's literally harder to concentrate when I see a lot of color. I either mute the hell out of things so I can focus, or embrace weirdo colors that don't make much sense, but the subtlety of color is more or less lost on me. Love Morrissey, but the Cure vs. Smiths is still a toss up.
Agreed, totally depends on the day. Finally, What are you currently pursuing and/or what isn't there yet that you're interested in making happen?
I'm currently working on a bunch of music packaging, which is a great outlet. I've also been collaborating on prints and textiles for a couple fashion labels, which is new and fun for me. I'm super excited about a new Hugo & Marie project we've been working on that launches in a couple weeks, but I'm resisting the urge to talk about it just yet! I wouldn't mind taking a little time for personal drawings or an exhibition into next year, and generally I'd like to think about my stuff a bit more dimensionally—big, tangible objects and products.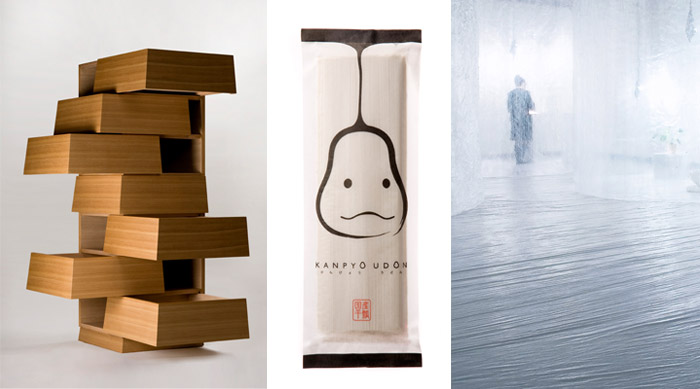 CHRIS RUBINO: I really responded to your use of organic shapes/materials in your work. Can you say a few words about how nature influences your design aesthetic?
NOSIGNER: More than enforcing shapes, I have the feeling that the shapes arise in the process of finding the right answers for my products. Nature has always given me a hint to find inevitable shapes.
You are involved quite a bit in architecture and art as well as design; do you approach each of these fields with the same creative energy?
Detect problems and find beautiful ways to solve them is a claim that I follow in all different forms of creative work.
My work is more than just designing things, but collect invisible facts, search for the unseen quality of things and connect them to grow into pieces of presence. From my point of view architecture, art, product or graphic design, demand the same process of solving problems and therefore deserve equal creative energy.
Lastly, the big question for a Young Gun is, where are you headed? What are you currently pursuing and/or what isn¹t there yet that you're interested in making happen?
Being alive and designing is inseparably connected for me.
I try to create things that unify very good quality and design that people can connect with, things that I myself wish to be surrounded by. For me it is important to choose local skills as well as traditional techniques and knowledge. I just released the furniture collection AWA, which emerged from a collaboration with traditional Japanese craft workers. I wish to help the sustainable community to stay alive and grow. Furthermore I work on open source projects, which are experimental projects to seek products without consumption. In these projects, I like to share my idea of how to create design products with the own hands, without any purchase, for free alike open source software on the Internet. For example, it is possible to share how to create lighting products made out of noodles and eggshells or an eggshell plant pod. All used materials are easy to get everywhere in the world.
---
Don't miss part one, and also check out the entire ADC Young Guns 7 roster.
---
Chris Rubino is a New York City-based artist/designer whose work has been exhibited in Europe, Japan, Hong Kong and the U.S. He likes to spend his vacations in the desert and has been in a number of motorcycle accidents. He would very much like to meet Lawrence Weiner one day. Visit his work at www.chrisrubino.com.