Hungry & humble: Meet the ADC Young Guns
Comments: +
November 25 2009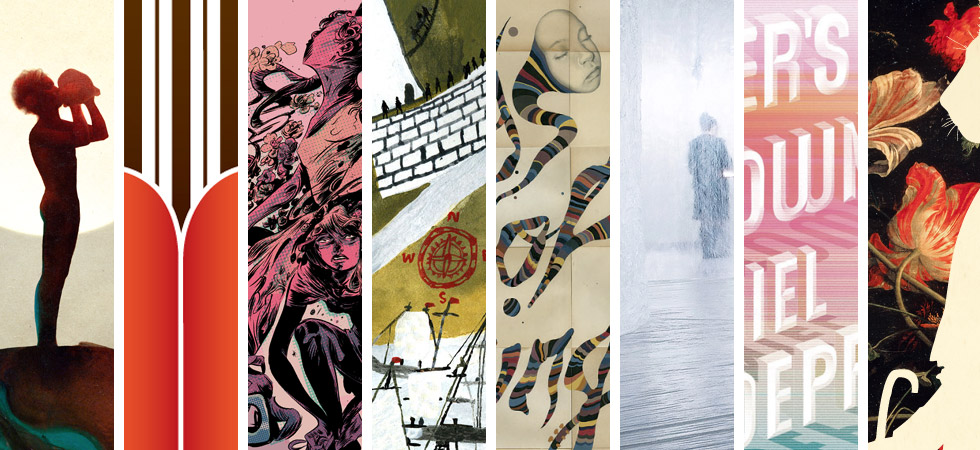 The newest class of ADC Young Guns has just been announced, and as a previous honoree I'm, of course, inclined to scope out the competition.
About every other year since the mid-'90s, the New York-based Art Director's Club has been selecting a group of designers, photographers, illustrators, etc., all under 30 who are excelling beyond their years in the world of image making. Looking through the latest winners (YG7) I am truly impressed with what I've found, a group of incredibly talented, fresh, innovative and unusually modest designers. I've contacted a few of my personal favorites from the group to ask some questions in the hopes to get a sense of where they are coming from, where they are going and possibly find out how to make a lamp out of soba noodles.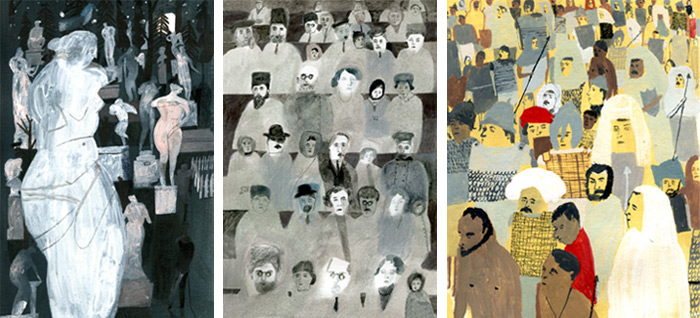 CHRIS RUBINO: I really was attracted to your work immediately; it reminds me of pieces of books that I loved as a child, what were/are your favorites from back then?
LAURA CARLIN: I am the most nostalgic person I know so that would make a lot of sense! While my mum always wanted me to copy Lesley Anne Ivory (very 'tight' images of cats on patterned carpets) and play with dolls, I was fascinated by boy's drawings (my brothers as well as classmates) of wars and battles in the back of their exercise books! I had some of the greats around me though, such as books by Edward Ardizzone, Lewitt-Him (Jan Le Witt and George Him) and Edward Bawden. We also had many maps on the walls and I still love these now. I always found words difficult and yet loved to read. I now realise that I was using books to visualize various characters and scenarios when I was younger.
What does it mean personally/professionally to you to be awarded as an ADC Young Gun?
Well of course it's a huge honor. Illustrating can be a very lonely job and it's slightly surreal sometimes to think that what you're producing alone, listening to the radio and sometimes with only yourself as the critic, is going into a national newspaper. It's good to be reminded of an audience to aim towards, and wonderful to be awarded a Young Gun. While putting forward for the award I looked at past winners (including yourself!) and I'm a great admirer of the energy and passion that so much of the nominated work has. I can get a bit jaded and bored of illustration and it's good to reignite something! I should also mention that being given an award is always good for backing up that I don't in fact colour-in for a living to my family.
This last question, I'm going to ask each of you. The big question for a Young Gun is, where are you headed? What are you currently pursuing and/or what isn't there yet that you're interested in making happen?
That's a difficult question! I've always been a traditional illustrator in the way that I work. I'm only just getting used to the idea that I make a living out of drawing. While I don't hunger fame or title, I'd like to think that my personal work and professional work continue to become more and more intertwined. I think it's important that I challenge myself—not just saying 'yes' to a job for the sake of it, but instead trying to make dream commissions happen (for example putting illustration in areas or businesses where it hasn't been used before). Also it's important that I keep some perspective and a sense of humor!  I'm just beginning to return to making my own books, games, ceramics and maps. I also want to form a book from a recent tour of America. I hope to keep this up if only not to contribute to the constant drone of freelancers (myself included) complaining about not doing their own work!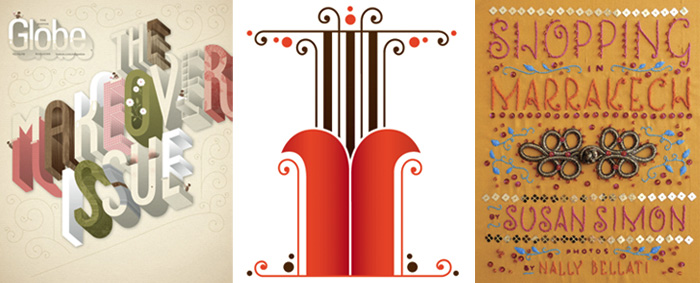 CHRIS RUBINO: Your type really stands out in the young guns class this year; I love the different approaches you take to each project. When did you notice yourself becoming so attracted to typography?
JESSICA HISCHE: I started drawing type in college out of poverty mostly. I couldn't afford all of the awesome expensive fonts and the 10,000 font CDs that floated around school were pretty useless. Drawing type was a way to have more creative control over design projects. It became the part of projects that I liked most, so it ended up taking over as what I primarily do.
I'm a sucker for letterpress, screenprinting, really any alternate way to produce work beyond the computer. Do you have any words of praise to give to the letterpress process & any nightmare stories? I can speak from experience that printmaking can drive even the most sane mad.
I. Love. Letterpress. I think what I like most about the process is the immediate satisfaction you get from making prints. Turn the crank and it is done. Letterpress makes literally anything look better. I've seen people letterpress scrawly drawings and it looks amazing. I think the only nightmarish things about it are the cost of plates if you want to make big things, difficult registration, and a massive swollen hand after a long day of printing. When I printed my alphabet posters, my hand swelled up and hurt so much I had to request an ice-pack when I was out at a restaurant later that night. I had no idea that just turning a crank for 7 hours could do that.
Hand massages are the best thing in the world for a printmaker. Lastly, What are you currently pursuing and/or what isn't there yet that you're interested in making happen?
I love what I do already. I just started working entirely for myself after two and a half years of crazy late nights and working on the weekend, so I'm really happy to be able to control my schedule. I want to of course continue pushing my lettering especially now that I have time to do some experimentation and try new methods. I want to make more self-authored things, lots of letterpress type related projects and products, write/illustrate a children's book, and push my Daily Drop Cap project further and into more mediums.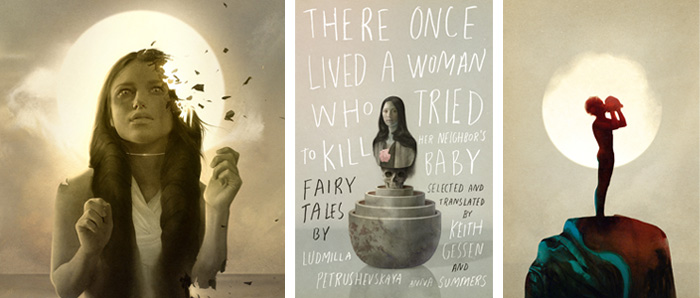 CHRIS RUBINO: I was very impressed with many of the Young Guns this year but you are one of the few that actually made my head hurt. You are an amazing talent. How young were you when you realized you had this gift—it's ok not to be modest, I'm feeding this one.
SAM WEBER: I've been drawing my whole life. In high school I started to think of art as something I might want to do professionally. Up until that point it had never really occurred to me that I could devote my life to it. Like most artists, I'm self absorbed and painfully insecure, I think I've always enjoyed the attention and sense of accomplishment picture making has afforded me, even as a child.
I see that you are involved quite often with book covers and have quite a literary flair, are you interested in writing, publishing your own book?
I'm really interested in authoring my own content, and the book as a form has so much potential, but I'm a terrible writer. I think if I were to have the opportunity to publish anything of my own, it would be almost entirely pictorial. Part of what I like so much about illustration is the act of interpreting. I sometimes question whether basing an entire project on purely my own subject matter would even be all that interesting.
I'm sure I'd be interested to see that. So, What are you currently pursuing and/or what isn't there yet that you're interested in making happen?
I always struggle with this question. I sometimes think designers have a better grasp on how to use my work than I do. To be a good image maker you have to be a little obsessed with the details: the marks,  colours, and metaphors than make up a picture or thing. Sometimes at the expense of the strategic thinking that is essential to making larger projects work. Most of my favourite projects have come about through collaborating with other talented people. With that said I'd love to see my work extrapolated into other physical spaces. Design sets for an opera or play, create a window display, or even work on a more extensive series of posters. I think there would be challenges to these sorts of projects that could be really interesting.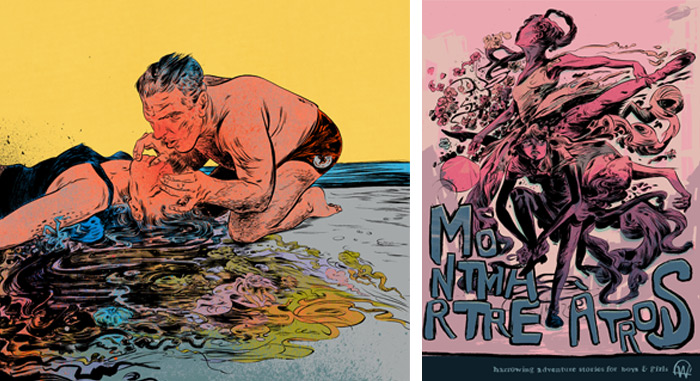 CHRIS RUBINO: Your Illustrations are Beautiful, I've also been way into comics since I was a child, I can see some influences, I'd like to know who you're into?
WESLEY ALLSBROOK: I'm a huge fan of the draftspeople, always have been.  For your classics, I like Milton Caniff (Terry and the Pirates—especially when Terry gets older and into some real hijinks, and the later Steve Canyon), Noel Sickles (more of an illustrator later on, but emphasis on the Scorchy Smith), Alex Raymond (especially later in Flash Gordon when he gets a little more efficient with his drawing), Will Eisner, Kurtzman, Kirby...  But for your modern influences you've got Paul Pope.  The guy lives down the street from me, and I trip every time I see him.  My toes really hurt.
Yeah Paul is a great guy, I'm sure he'd not want you to hurt yourself on his behalf. So, do you have a better name for "comics"? Especially when they aren't funny or contained in a full novel? This is your chance to coin a phrase.
Just because we don't write with pictograms, or god forbid, speak in dingbats doesn't mean we should regard stories told with images as something entirely new.  Using images as well as words, and allowing for interaction gives us new ways to say the same things. The whole "graphic novel" thing makes me feel like I'm pretentious enough to want my own category, but too stupid to just use my words. And, for the best of comic creators the images are not a crutch. Maybe we could call them Pictovels? Pictovellas?
That's a good start. Now, for the expected question for a Young Gun, where are you headed? What are you currently pursuing and/or what isn¹t there yet that you're interested in making happen?
Most of what I do now is editorial, and I enjoy that. I love the pace and the feeling of getting my images thrown into someone else's layout, and hopefully both of us being better for it… Got to admit, though, I'm interested in a much greater variety in projects. I'm working on my own comics now, and I'd like to get them published. I want book work, ad work, and notoriety. I'd like to not be so shy at ADC events. And I want a fireplace. And a dishwasher. And to keep drawing. Long as I can do that, I'm happy.
---
Continue reading part two.
---
Chris Rubino is a New York City-based artist/designer whose work has been exhibited in Europe, Japan, Hong Kong and the U.S. He likes to spend his vacations in the desert and has been in a number of motorcycle accidents. He would very much like to meet Lawrence Weiner one day. Visit his work at www.chrisrubino.com.