A new look for Tonight
Comments: +
February 18 2010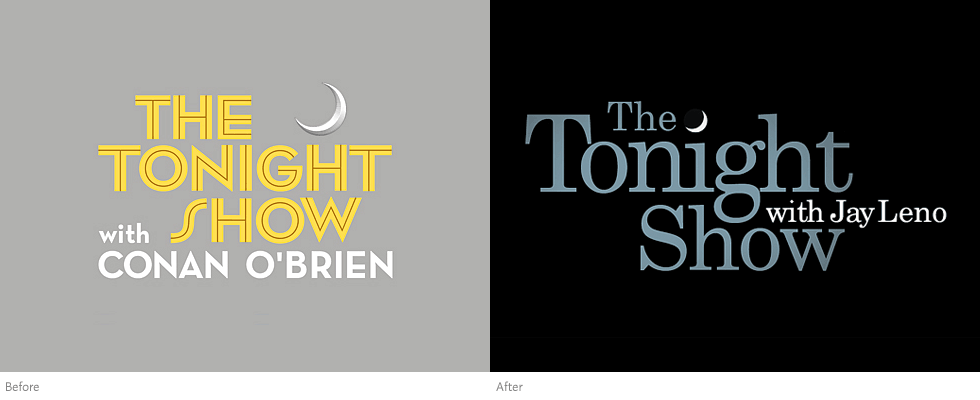 The dust has finally settled following the heavily publicized 'Late-Night Wars.' On March 1st, Jay Leno will return as the host of The Tonight Show, but his logo will not.
For more than a decade, comedian Jay Leno was the host of NBC's The Tonight Show. Taking over from the legendary Johnny Carson in the early '90s, Tonight has become the longest running entertainment program currently on air in the United States. The network came under fire in the past year, however, following their decision to move Leno to a new prime time program after his supposed retirement. The Tonight Show franchise was left in the hands of Conan O'Brien, but only long enough for both shows to suffer a ratings slide and cause NBC execs to quickly hit 'undo.'
After quietly wrapping up the defunct Jay Leno Show last week, the network is busy preparing the relaunch of The Tonight Show. On February 16th, Leno's backstage blogger, Bryan Branly made an announcement on the about the upcoming changes. "We only have two weeks to transform Studio 11 into the home of The Tonight Show With Jay Leno. Time is tight, but we're working hard to make changes as fast as possible… We have a new logo too—what do you think?"

The new logo is exactly what you would expect: muted colors, text-heavy, and of course no late-night logo is complete without a moon-dotted 'i' (although its barely shows up in the white version). It's far from revolutionary, but it can at least be appreciated for its clean approach.
The logo's text set in Century Schoolbook, with some slight—but strange—modifications. I can accept the decapitated lowercase 't,' but the real offender is the awkwardly stretched 'g' (not quite Bing territory, but close).

On the other hand, perhaps the enlarged descender is appropriate for someone who's been dubbed 'the big chin.' It has not been disclosed whether the logo was designed in house or by an outside firm.
The new look will make its debut next month when Leno reclaims his role as the Tonight Show host. A new advertising campaign has also been launched, and is expected to air for the duration of the Olympic Games.
A brief visual history of The Tonight Show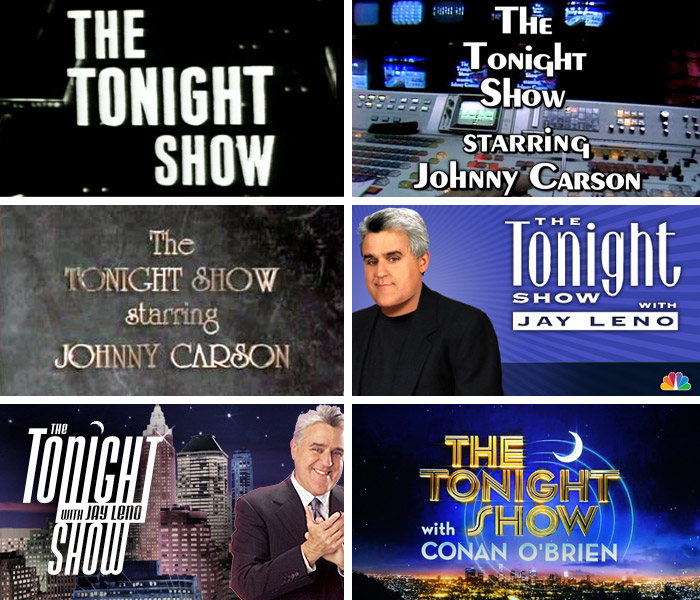 Title cards from The Tonight Show with Johnny Carson: 1960s (Source: Wikipedia), 1970-80s (Source: A Christmas Yuleblog), 1980-90s (Source: tvrage.com), with Jay Leno: 1990s, 2000s, with Conan O'Brien: 2009-10 (Source: NBC)