Microsoft officially launched Bing worldwide today, a rebranding of their Live Search engine. With a new identity and features that promise to make searching easier, will you say goodbye to Google and 'Bing it'?
Bing, dubbed as a "decision engine", is Microsoft's attempt at winning some of the search market from Google and Yahoo in a fight for advertising dollars. The name was conceived with help from branding company Interbrand, chosen for its simplistic spelling (and the fact it can be used as a verb). To launch the service, Microsoft has hired JWT for a nearly $100 million marketing campaign, beginning with a 60 second TV ad.
From Microsoft's press release:
Microsoft Corp. today unveiled Bing, a new Decision Engine and consumer brand, providing customers with a first step in moving beyond search to help make faster, more informed decisions. Bing is specifically designed to build on the benefits of today's search engines but begins to move beyond this experience with a new approach to user experience and intuitive tools to help customers make better decisions, focusing initially on four key vertical areas: making a purchase decision, planning a trip, researching a health condition or finding a local business.
As far as the look of the site, its fairly similar. Live Search, as seen before: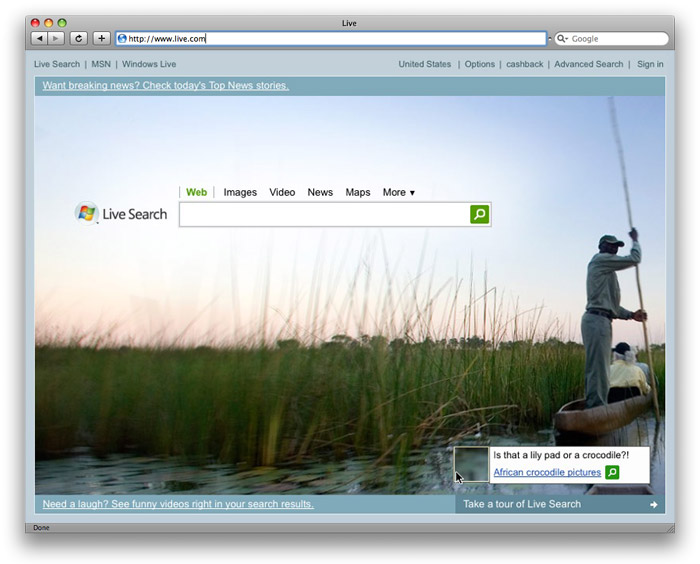 Bing, as seen today:
From someone who has only used Live Search a few times, I don't see anything that will make me want to switch. The name reminds me of a certain character from Friends, the logo is horrible, and the site just feels clunky compared to the minimalist look of the competition... but some people seem to like it. For a full feature comparison, check out PC World's Bing vs. Google vs. Yahoo, or just give it a try.