Tim Hortons becomes a 'Coffee & Bake Shop'

Last week Canadian coffee and doughnut giant Tim Hortons invaded New York City, rebranding and opening 12 locations nearly overnight.
As someone who grew up in Canada, it is hard to explain the significance of the Tim Hortons brand. Founded and named after a famous hockey player in 1964, Tim Hortons' trademark Timbits and Ice Capps are ingrained in the country's culture. With around 3,000 locations, Tim Hortons is the largest food service operator in Canada, even larger than McDonald's and Starbucks, selling about two billion cups of coffee per year. But to most Americans, Tim Hortons means nothing. "The biggest challenge will be to get New Yorkers to know what Tim Hortons is," the Riese Organization (the local franchisee) told the New York Times.
The new Tim Hortons locations popped up in previous Dunkin' Donuts restaurants, also franchised by the Riese Organization. The switchover came after a legal battle between Riese and Dunkin' Donuts which started in 1999 when The New York Post published a photo of mice eating doughnuts at one of its locations. The restaurants were quickly converted over a single weekend, opening up in hot spots such as Times Square and Madison Square Garden the following Monday. For Tim's sake, hopefully they had enough time to rid the place of mice.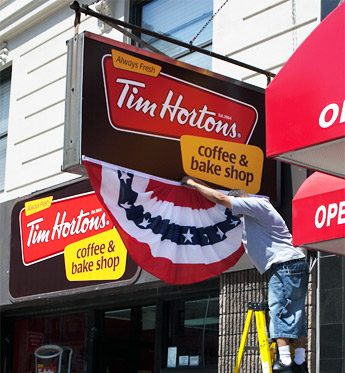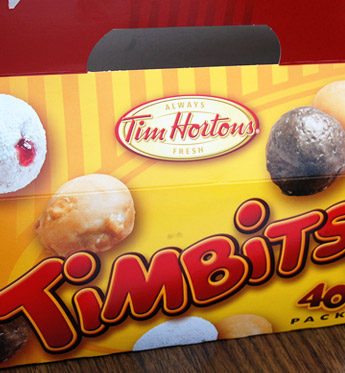 Along with coffee and doughnuts, Tim Hortons also serves breakfast, soups and sandwiches—nothing new to New York which has hundreds of Dunkin' Donuts and Starbucks, and thousands of other coffee and food spots. But the company hopes customers will see a difference, "New Yorkers are savvy customers, they understand good value and quality, and are prepared to try new things," said COO David Clanachan. The franchise already has plans to open more New York stores this summer.
With over 500 locations now in the United States, the New York stores are not the first, but it does mark a new push to get the brand noticed in the U.S. market. "Coming to New York City is a significant milestone in our U.S. expansion," said president and CEO Don Schroeder. With this push comes a new logo which adds the "Coffee & Bake Shop" tagline to help explain what the chain has to offer. The redesigned logo, spotted so far only on the New York signs and advertising, seems to lose its 'wholesome, homemade' appeal for a more retro vibe (reminiscent of Krispy Kreme), an obvious attempt to look 'hip' enough to replace Dunkin.
Tim Hortons representatives did not respond on whether this new branding will spread to its other stores (nationally or internationally), or even its cups and packaging which currently use the old oval logo. Although, the company has never really worried too much about consistency, with many Canadian stores still sporting this logo from the mid-nineties.
So, New Yorkers, will you buy coffee from this guy?