After being unemployed for a decade, Kool-Aid Man is back on the job in a new ad campaign which promises to deliver "more smiles per gallon," and win the race against soda.
Created by longtime agency Ogilvy & Mather, the new campaign marks the return of the live action mascot who was first introduced in 1975. The live Kool-Aid Man had been absent from the company's advertising since the late 90's, after losing his job to a (creepier) 3D-animated version of himself.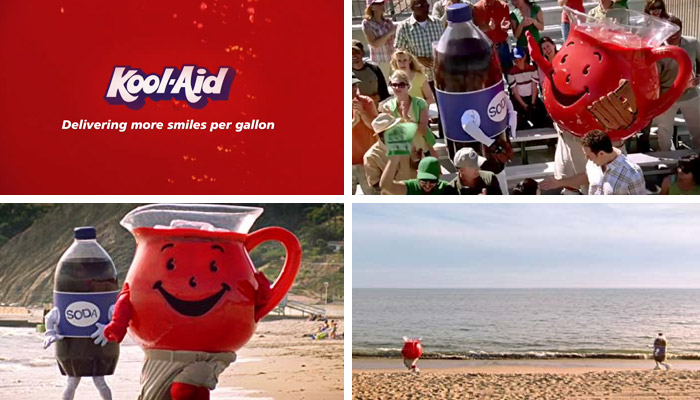 Expanding on last year's "More smiles per gallon" campaign, the new ads focus on Kool-Aid's low price by comparing its drink mix to the higher cost of bottled soda. The ads claim "regular Kool-Aid goes almost three times further than soda," but of course that is to be expected since soda and Kool-Aid are not the same thing. Despite this, the ads seem to be doing well at time when consumers are cutting back spending on non-essential items like soft drinks.
He is someone who we know is a fun, loving smile maker... The insight is this idea of affordable family smiles. Consumers are looking for fresh beverage ideas and they're doing more with less.

-Gregory Nesmith, Kool-Aid senior brand manager, from Brandweek
In four new TV spots, Kool-Aid Man (unfortunately) puts the days of busting through brick walls behind him to become a good samaritan, saving a kitten from a tree and giving away a baseball. "He's sweet," as the announcer puts it. Also featured in the spots is Kool-Aid's rival Soda (a generic cola bottle mascot), who can never seem to keep up.
To see more, we've made a playlist on YouTube.
Kool-Aid Man, a brief history
Kool-Aid Man was based on a 1954 campaign by Marvin Plotts. Then known as the "Pitcher Man," he was a talking glass pitcher with a fingerpainted smiley face. As seen in this ad:
Kool-Aid Man first came to life in 1975, performing singing jingles and busting through walls with his trademark phrase, "Oh, Yeah!" In his heyday, Kool-Aid Man even had his own comic book series and video games.
In the late 90's and early 2000's Kool-Aid hit rock-bottom after being replaced by a 3D-animated double:
via AdFreak