Gateways from above
Comments: +
April 28 2009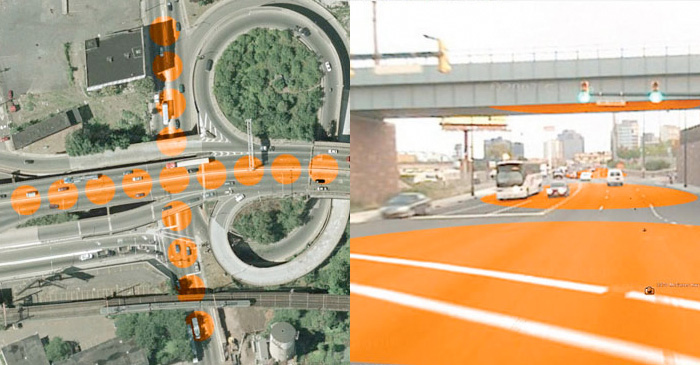 From Pentagram comes an unusual concept to create a series of "gateways" for the city of Newark, New Jersey. The designers were asked to mark the points of arrival in Newark and to address the history and culture of the city in the urban landscape. The proposed idea places a series of symbols on the Newark streetscape that would be visible from Google Earth, as well as the ground.
Our design considers the nature of travel and Newark's role as a hub. It is no accident that the assignment for the Newark gateways project was delivered as a Google Earth file: this is, more and more, the way we virtually "travel." Our gateways address both remote and local audiences with a set of ideas that are legible in reality and cyber-reality. In our concept, a series of painted "events" on the Newark streetscape would bring Newark to the world, and bring the world to Newark.

Map symbology has a long and storied history. The process of representing the three-dimensional world as flat and map-like requires a notational language. Our proposal places a new set of distinct symbols "on the map" by creating them for the Google Earth point of view. With paint and little else, Newark can define itself, celebrate its entry points, and address a global audience, all in one stroke. The painted "events" are visible and engaging on Google Earth, while the real locations would be signed with images from above that explain the colors and patterns on the ground.
Placement of the proposed symbols: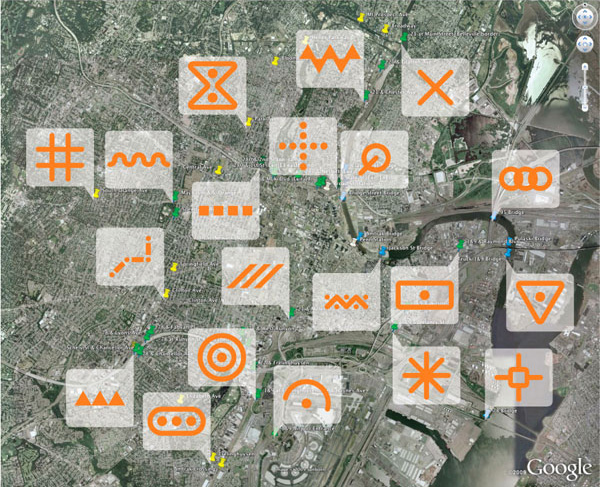 View from above: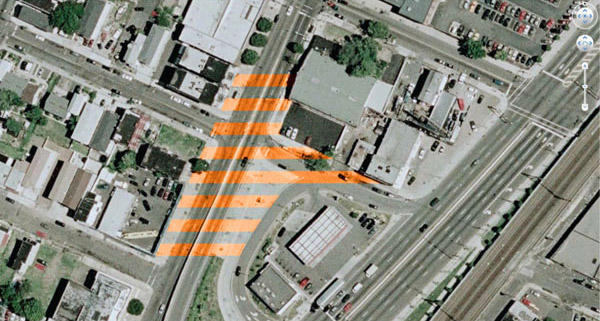 Street-level view, showing the painted road and sign: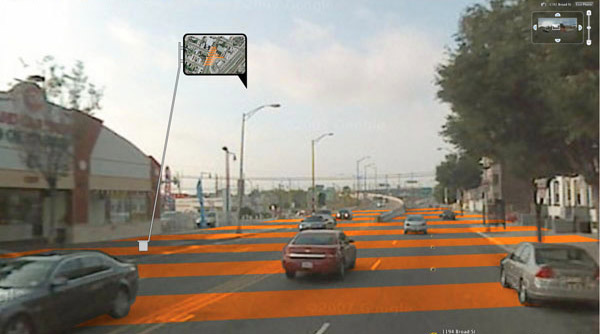 With over 30 designers and artists proposing ideas for Newark's gateway project, "This is Newark", it be interesting to see if this idea will see the light of day. Read more about Pentagram's proposal here.