Fresh & hungry: Dana Tanamachi
Comments: +
January 25 2012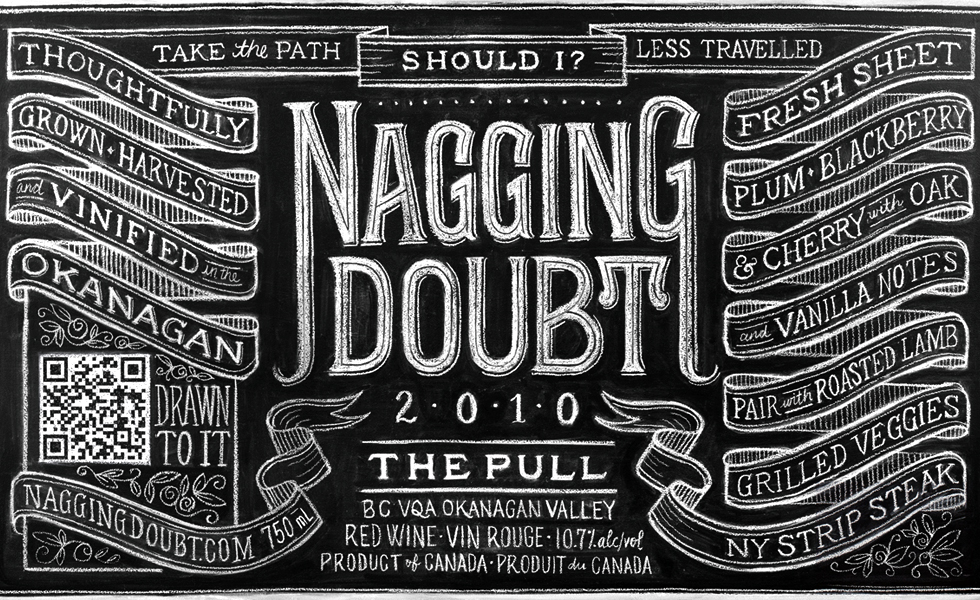 In this Fresh & Hungry, Chris Rubino talks with Dana Tanamachi, a graphic designer and custom chalk letterer living in Brooklyn.
CHRIS RUBINO: Your work is so striking, I love that you've chosen such a unique and tangible medium. I'm sure you've been asked this a lot but how did the chalkboard drawings begin? That decision has truly created a voice that you can call your own.
DANA TANAMACHI: Thank you! I never tire of telling this story because it's an occasion to boast about my incredible community of friends here in Brooklyn. A couple years back, there was a Great Gatsby-themed housewarming party in Boerum Hill—and of course everyone came all gussied up. My friends' new place had a huge chalk wall in their living room, and a much smaller one to the side. She suggested that I pick up a piece of chalk and doodle something ("You're artsy, aren't you?"). So I did. My other friend and I wrote the word Brooklyn on the wall—it was relatively small; not amazing. But people started coming over to it and commenting how great it was. Soon it became the "photo wall" for the party and all the photos were uploaded to Facebook after that night. I guess we were on to something.
For the next several parties that year, I'd come over beforehand and let my imagination run wild on the wall—it was such a great outlet for me at the time, as I spent all my days in front of the computer. After seeing my work on Facebook, a few friends-of-friends hired me for my first couple of commissions in NYC. Around the same time, a few popular blogs began picking up my work which led to more commissions. And the rest is history.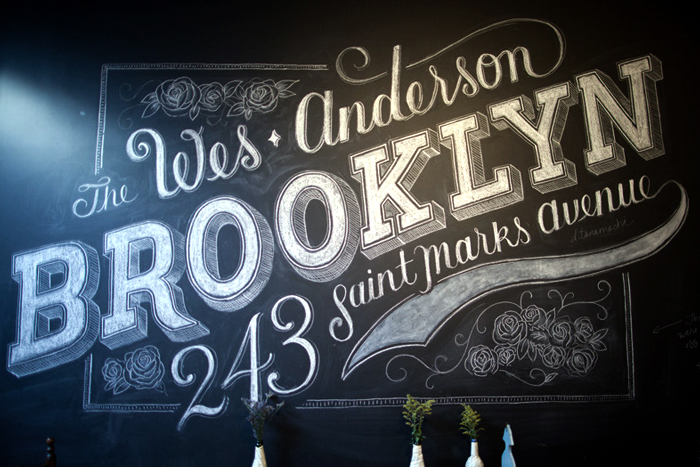 Very cool, I love hearing about the varied paths we as designers travel during our careers. I enjoyed watching the videos of your process. It appears that you keep it pretty simple (chalk and a damp towel). Have you customized any tools for yourself to help with these pieces? Also have those short films inspired any desire for animation using chalk?
I always keep a sewing tape measure around my neck which I've come to use for multiple tricks. And nope, I have no desire to do any sort of animation using chalk—those things are too intense! Erasing and redrawing for every frame? Nope! I would be up for using my work in a more digital, moving format—just not animation!
Got it, So what's next? Bigger chalk pieces? Or are you feeling ready for the next thing?
I am extremely thankful to have ended last year and begun this year with some high-profile projects that I'm really proud of. Now, I'm interested in just continuing to make the kind of work that I love, but perhaps on a smaller scale. As long as I can live a quiet life and work with my hands, I'm good. I've recently started lecturing on my work at different Universities, and my favorite part is connecting with the students and encouraging them to pursue whatever is life-giving for them. Everyone needs someone to say, "Hey, I see something in you. Let's bring that out."
So to answer your question, in order to push my work (and myself), I'd like to step back from it a little bit. Using some of my time to incorporate other relational aspects into my work really excites me.
Well its been working very well so far, I'm sure you're going to have an incredible future, thanks Dana!
---
To see more of Dana's work, visit danatanamachi.com.
Explore the Fresh & Hungry series:
---
Chris Rubino is a New York City-based artist/designer whose work has been exhibited in Europe, Japan, Hong Kong and the U.S. He likes to spend his vacations in the desert and has been in a number of motorcycle accidents. He is currently a board member of AIGA/NY. Visit his work at www.chrisrubino.com.