Parallels: Kraft "Dinner"
Comments: +
March 29 2011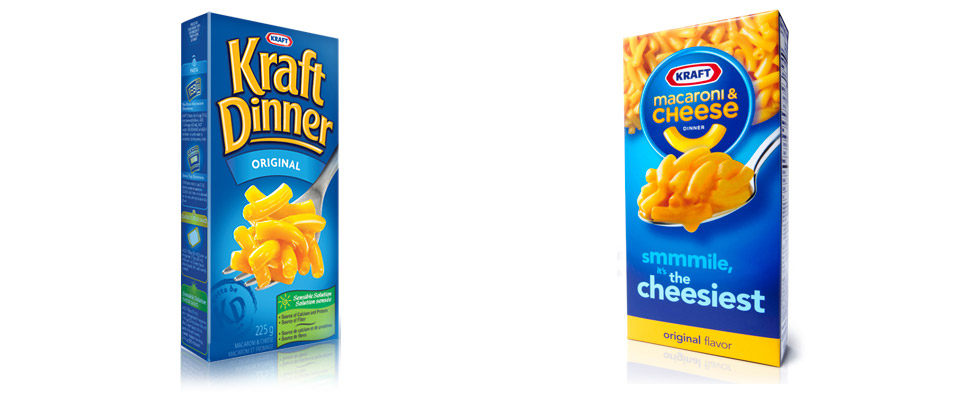 It's cheesy, neon orange, and makes a meal for four in 9 minutes. In this Parallels, we look at Kraft (Macaroni and Cheese) Dinner.
Kraft Dinner (that's right, Kraft Dinner) could very well be America's first convenience food. Preceding the TV dinner by nearly two decades, Kraft's eponymous Dinner was first introduced to American test markets in 1936.
By 1937, the product was launched nationally across Canada and the United States, selling 9 million boxes in its first year.
Making Dinner
Kraft Foods started its life as J.L. Kraft and Brothers Co., a cheese retailer in the early 1900s. Unhappy with the shelf life of cheese and its inability to withstand long distance shipping, they began experimentation and eventually received a patent for "processed cheese" in 1916. This research made it possible to create the shelf-stable packets of Tartrazine-infused powder found in Kraft Macaroni and Cheese today.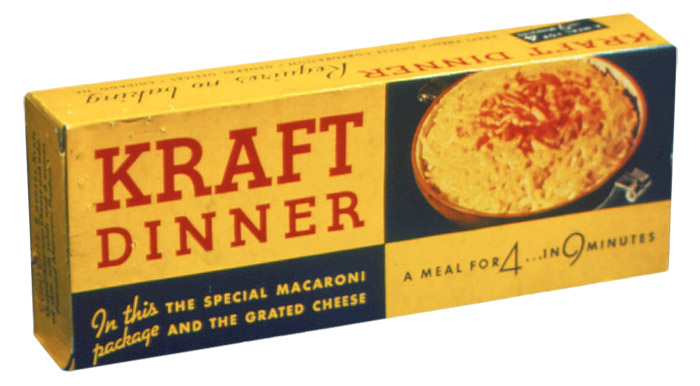 According to Better Than Homemade, it was a salesman for Tenderoni Macaroni, who first came up with the idea of selling pasta and cheese together. The salesman found his macaroni was easier to sell with packets of Kraft grated cheese attached. Realizing the potential, Kraft hired the salesman and turned the idea into an official product.
During World War II, Kraft Dinner gained widespread popularity. With the rationing of meat and dairy products, this meal-in-a-box proved to be a convenient and inexpensive substitute, reaching sales of 80 million units in 1943.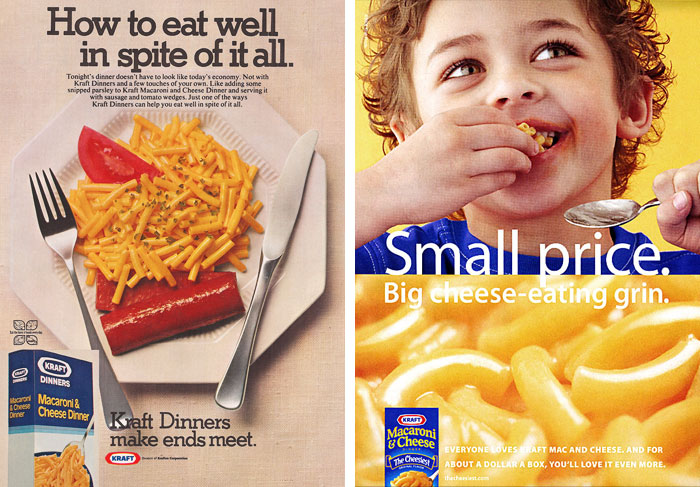 Today Kraft sells around 350 million boxes annually in the United States, and another 100 million in Canada.
From Dinner to Macaroni and Cheese
Although the product was originally called Kraft Dinner in Canada and the United States, the name is now foreign to most Americans, where the product is now simply called Kraft Macaroni and Cheese. In Canada, however, the product is still known as Kraft Dinner (or KD).
We reached out to Kraft Foods directly for an explanation. The best answer we could get attributes the change to a packaging redesign in 1958, which inserted the phrase "Macaroni and Cheese" between "Kraft" and "Dinner."
This addition was likely done to pave the way for other Kraft Dinner varieties, including Mexican-style Macaroni, Spaghetti, and Pizza—all of which have since been discontinued or rebranded under different names.

Even with changes to the packaging, the name "Kraft Dinner" continued to resonate with Canadians. In fact, the name is so common in Canada, it is typically used to refer to any brand of macaroni and cheese. You can even order Kraft Dinner at Burger King.
Despite the name difference, Kraft Dinner and Kraft Macaroni and Cheese are essentially the same product. An unscientific taste test on Youtube reports some slight color and texture differences, however.
One interesting difference, the Canadian packaging shows a sloppy forkful of pasta, while the American variety (with exceptions to its Deluxe and Premium flavors) shows a tidy spoonful. Does this mean Americans prefer to eat their macaroni and cheese with a spoon? Or maybe Canadians are just messy eaters? Whatever the reason, it's been like this for decades.
Not just for kids anymore
Last year, Kraft launched a new logo and packaging system for its Macaroni and Cheese in the United States—its most significant change in over a decade. Designed by Landor Associates, the new brand is recognizable by its "noodle smile."

Kraft Foods consumer research proved that tightly linking 'Macaroni & Cheese' with 'Kraft' conjured up positive emotions about the iconic brand and its unique taste experience. So the new identity we designed locks these words together on every package and seals it with a large cheesy noodle smile.

— Landor Associates
The new brand is supported by a multi-million dollar advertising campaign from Crispin Porter + Bogusky, aiming to reposition the product to an grown-up audience. With increased focus on its Deluxe/Homestyle varieties and advertising taglines like "Outgrow outgrowing it," Kraft is hoping to prove it's no longer just for kids and penny-pinching college students.
CP+B are pulling out all the stops, installing 20-foot macaroni sculptures at tourist attractions, turning tweets into realtime television ads, hiring Ted Williams for voiceovers, creating and installing noodle smile cams, even dreaming up new products like barbecue-ready macaroni and cheese. The buzz seems to be working, at least on Twitter, where "Mac & Cheese" was a trending topic earlier this month.
Meanwhile, Kraft Dinner (the Canadian variety) has its own unique branding and advertising. With a slogan "Gotta be KD," it's still largely targeted to kids.

You can also find the Kraft product on grocery shelves in the United Kingdom, but you won't find the Kraft Macaroni and Cheese label nor will you find the Kraft Dinner label. Instead, Kraft uses a generic "Cheesey Pasta" name to sell the bright orange concoction. No fancy big-budget advertising campaigns here.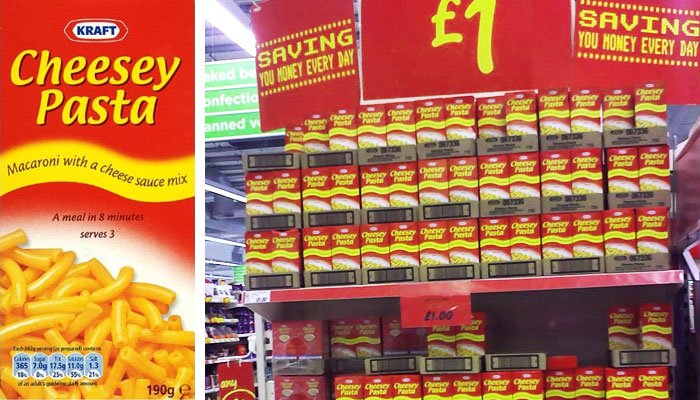 ---
Also see: